7/27/2021
You can now view the recording of our Science-Based Composting Practices webinar! This second presentation in our BSAAO webinar series highlights science-based composting practices that growers can use to minimize microbial food safety risks while reaping the soil health and production benefits from the use of BSAAO. We also talk about the treatment status and documentation requirements for other common BSAAO such as vermicompost, fish emulsion, and pelletized poultry litter.
---
6/29/2021
The recording of our first BSAAO webinar is now available! Soil amendment use is one option among a number of management practices that growers have to support plant growth and build healthy soils. Some soil amendments are biological soil amendments of animal origin (BSAAO) and they are primarily used as a nutrient source and to build up organic matter in the soil. However, the use of BSAAO in produce production can present a microbial food safety risk by introducing human pathogens into the soil as well as the broader farm environment. This webinar series outlines benefits and risk reduction practices when using manure, compost, and other BSAAO often used on produce farms. The relationship between these BSAAO recommendations and the requirements in the National Organic Program, Food Safety Modernization Act Produce Safety Rule, and third-party Good Agricultural Practices audits is also explored. As the first presentation in a two-part series, this session introduces how the use of BSAAO improves soil health. Research on pathogen survival in BSAAO-amended soils will is presented, as well as how growers can minimize the risks of using untreated soil amendments through proper application, storage, handling, and recordkeeping practices. 
---
2/10/2021
Fieldwork update from the California region team (see California Multi-State Update for accompanying photos and timeline):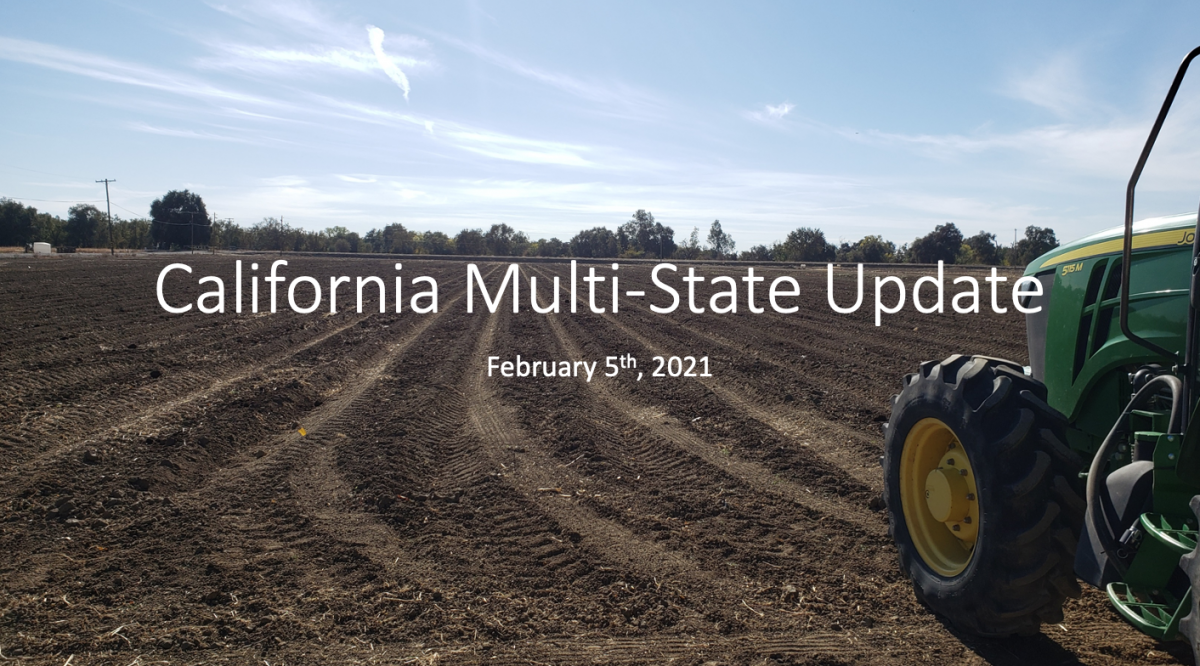 Our cover crop mix (cereal rye, clover, radish) was drill-seeded in early November, but we didn't have a germinating rain until mid December.  There is still not enough forage, (see second photo in the update link, taken 2/2/2021), so we will only have one grazing event in late February or early March. The grazed plots are depicted in green on the Experimental Design while the ungrazed cover crop plots are depicted in blue and the fallow plots are depicted in yellow. After grazing, all the beds will be prepped to plant spinach and we will monitor for food borne pathogens and soil health to see if there are differences between our three treatments.
For a detailed description of what fieldwork is like when managing grazing rotations, check out this blog post by Sequoia Williams, a Master of Science student on the UC Davis, California region team. 
---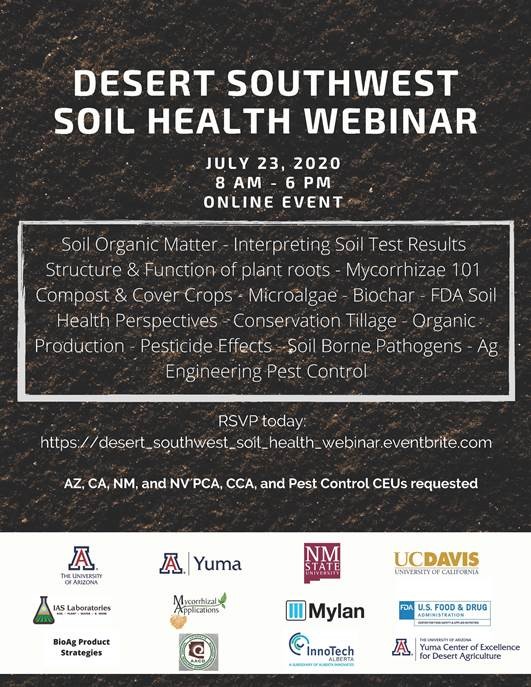 7/8/2020
If you're interested in the Southwest, we'd like to invite you to the Desert Southwest Soil Health Webinar Lecture Series on July 23rd at 8am PDT, hosted by the University of Arizona Cooperative Extension Department. Dr. Michele Jay-Russell of the University of California Davis (and a PI on this project) will be presenting on Organic Production Soil Health Considerations, including information about this project. Dr. David Ingram, who has been one of this project's contacts at the FDA, will also be presenting the FDA perspective on soil health. You can register for the webinar lecture series here. 
---
10/29/2019

Our collaborators at the Produce Safety Alliance have developed a great fact sheet about the FSMA Produce Safety Rule, detailing documentation requirements for commercial soil amendment suppliers. The Food Safety Modernization Act (FSMA) Produce Safety Rule, a regulation intended to reduce the number of foodborne illness outbreaks associated with fruits and vegetables, sets requirements for certain agricultural inputs. These inputs include biological soil amendments of animal origin (BSAAOs). Growers subject to the FSMA Produce Safety Rule and those using BSAAOs should be aware of these requirements, and this fact sheet is a great way to get some quick info.  Download it here.
---
09/06/2019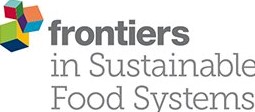 We have another peer-reviewed article out with information from our research!  The publication, titled "Assessment of Biological Soil Amendments of Animal Origin Use, Research Needs, and Extension Opportunities in Organic Production" was published in Frontiers in Sustainable Food Systems. Here is the abstract:
The use of biological soil amendments of animal origin (BSAAOs) to improve soil fertility and quality plays an important role in organic agriculture in the U.S. However, organic practices, such as untreated manure application, may introduce foodborne pathogens and consequently increase the risk of fresh produce contamination. Certified organic farms follow the USDA-National Organic Program (NOP) standards, which stipulate a 90- or 120-day waiting period between incorporating raw manure into the soil and crop harvest, depending on whether the edible portions of the crops come into indirect or direct contact, respectively, with the soil. To determine knowledge, attitudes, behaviors, and practices of organic farmers related to use of biological soil amendments, we employed three evaluation tools: a national workshop held at the University of California-Davis (UC-Davis); multiple in-person focus groups (listening sessions) conducted around the United States, and an online survey. Results reveal that untreated BSAAOs (untreated manure and immature composted manure) are critical tools in organic production for managing soil fertility and improving soil quality. Overall, organic producers surveyed in this study agreed that there is a need for more science-based data to evaluate and establish an appropriately protective time interval between untreated manure application and crop harvest to reduce the risk of surviving foodborne pathogens contaminating organic fresh produce. This study highlights the need for development of outreach and educational tools intended to help organic producers implement mitigation strategies to reduce food safety risks related to BSAAOs in organically grown produce covered by the Produce Safety Rule (PSR) of the U.S. Food and Drug Administration Food Safety Modernization Act (FSMA). This study informs and will aid prioritization of research (e.g., on a time interval protective of fresh produce food safety when soil is amended with animal-biological amendments in organic fresh produce systems) and outreach programs (e.g., GAPs, food safety programs, soil testing, pre-harvest food safety mitigation strategies, and organic rules and regulations) aimed at improving food safety for organic vegetable, fruit, and nut growers who use animal-based soil inputs, including amendments and rotational grazing.
---
3/14/2019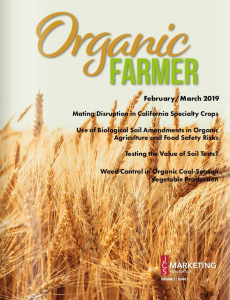 We published an article in Organic Farmer Magazine about the use and safety of biological soil amendments of animal origin (BSAAOs). The article focuses on raw manure (uncomposted and untreated animal manure), a type of BSAAO that is used in many crop-based systems, but is particularly important to certified organic farmers because of the ban on synthetic fertilizer.  Unfortunately, crops that are grown in soils amended with raw livestock manure can become contaminated by microbial pathogens carried by raw manure such as E. coli O157:H7, Salmonella spp., Campylobacter spp., Listeria monocytogenes and Cryptosporidium parvum.  It is crucial that raw manure application, compost processing and application practices be adequate to reduce the risk of potential crop contamination. Read more about the issue in our article here!
---
9/19/2018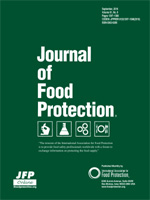 Check out our latest publication "Assessment of Current Practices of Organic Farmers Regarding Biological Soil Amendments of Animal Origin in a Multi-regional U.S. Study", published in in Food Production Trends. Here is the abstract:
Certified organic producers use biological soil amendments of animal origin (BSAAOs) to improve soil fertility and quality. Criteria for prevention of microbial contamination of crops have been based on the time interval between the application and crop harvesting. The objective of this study was to assess current practices related to the use of BSAAOs and food safety risks in organic agriculture, with a focus on produce commodities covered under the Produce Safety Rule. A total of 666 producers completed the survey (571 online and 95 hardcopy); 89.2% (594/666) of the respondents produced fresh produce. Eighty-two percent of the producers were certified organic and represent relatively small- to medium-size farms. BSAAOs were applied by 46.8% of producers growing produce that is typically consumed fresh. Fifty-eight percent of the farmers reported the use of raw manure. This survey showed that multiple factors related to on-farm manure management practices, which may directly affect survival and persistence of pathogens in manure-amended soils, vary by region and by state in the U.S. Thus, mitigation practices to decrease the risk of potential microbial contamination to fresh produce resulting from application of untreated manure must take into account multiple factors across different regions. This survey provides a framework for risk mitigation strategies to reduce microbial contamination of fresh produce in systems using BSAAOs, mainly untreated manure, in organic agriculture.
---
05/30/2018
A recent article published in Food Safety News discusses health and regulatory issues around use of raw manure as a soil fertility treatment.
---
01/20/2018
The awesome researchers from the University of California, Davis get down and dirty in the field collecting spinach for pathogen testing.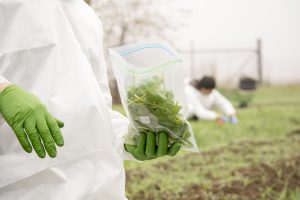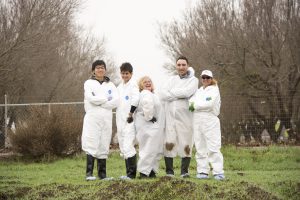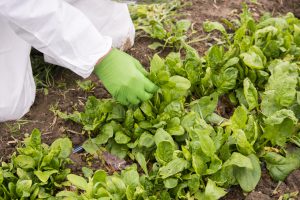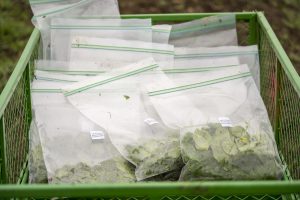 ---
12/01/2017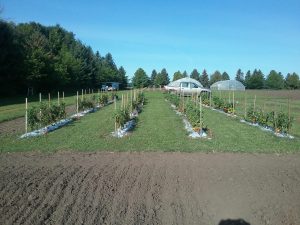 Our work continues!  Here are some photos from our field trial at the University of Minnesota Southwest Research and Outreach Center in Lamberton, MN.
These plots are fertilized with either poultry litter, dairy solid manure, horse manure or no manure.  After manure was applied we inoculated the plots using a generic E. Coli. Soil samples are collected every 30 days and tested for the presence of E. Coli in order to determine the amount of time the bacteria is able to survive in the soil. The plot that is notwith any manure is our control plot. By comparing differences in E. Coli survival in our control plot to the plots treated with manure we can better understand how the use of manure affects the persistence and survival of pathogens. These trials enable to us to better understand how long a farmer must wait after manure application (used as fertilizer) before they can safely harvest from the plot.  Once the E. Coli has died there is not risk of contamination through contact with the soil. In order to understand how different climates and geography impact our results we have also replicated these trials in California and Maryland. The pictures you see here were taken in the beginning of September and the only visible crop are the tomatoes. We have also planted radish and spinach in the remaining plots but they had not emerged yet.
---
09/15/2017
More photos from day 120 of the experiment in Maine!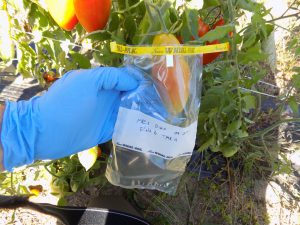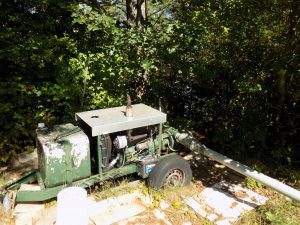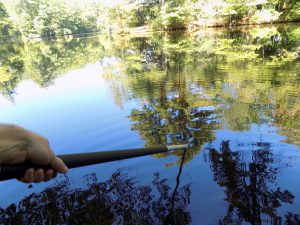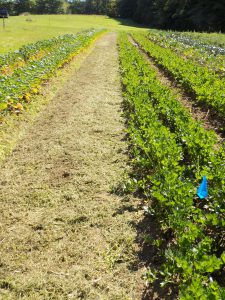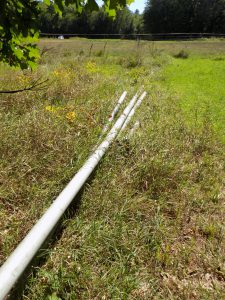 ---
08/30/2017
Here are some images from our organic farm study sites in Maine!  All of our study sites across the country utilize the same techniques to ensure that results are comparable.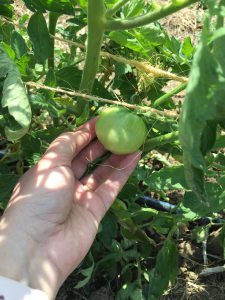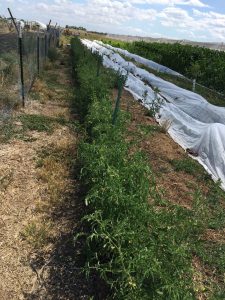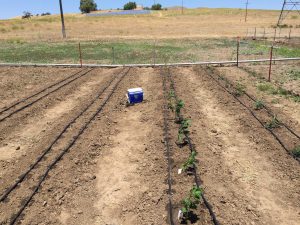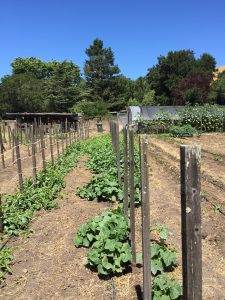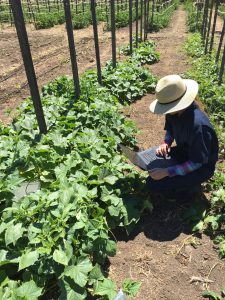 ---
07/18/2017 – 08/09/2017
Research at our organic farm study sites in Maine are trucking along as we near the end of the summer!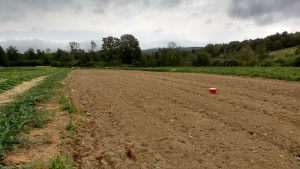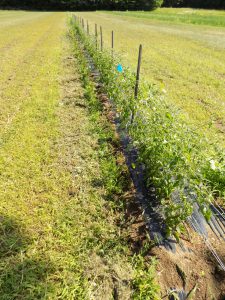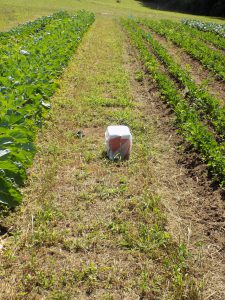 ---
06/08/2017
We've been hard at work on our farm study sites! Farm site, ME-2, is a small diversified organic vegetable farm located in Maine's mid-coast region. This region typically offers advantages to farmers through generally milder weather in Maine's cold climate and short growing season. The mid-coast also has great market potential due to summer tourism and close geographical proximity to Maine's largest city Portland, as well as, a plethora of other seasonally burgeoning towns.
ME-2 is one side of a joint farm collaborative. One side of the business raises livestock for various animal products such as meat and milk. While the ME-2 portion of the farm grows organic produce directly marketed to customers through farmer's markets and their own on-farm market. Additional markets include restaurants and stores specializing in local naturally grown vegetables.
ME 2 manages plant nutrition and soil health in part by animal manure and composts. This, as well as, having animals occupy similar space makes ME-2 fit well into the farm survey of the OREI Manure Project. For 2017, the crop we are sampling will be melons. Here in Maine, melons are typically planted after June 1st when the danger of a frost has likely past.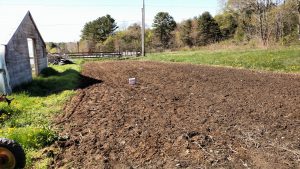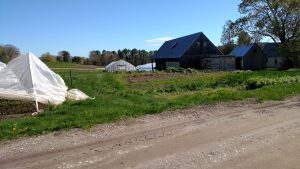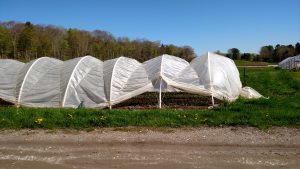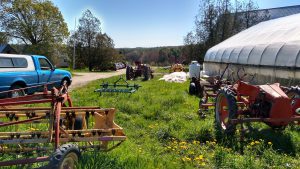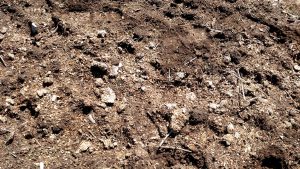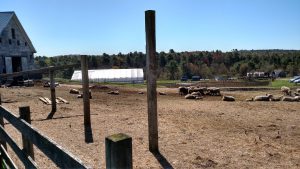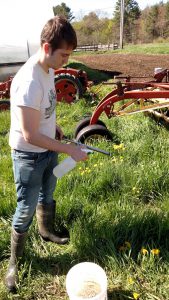 ---
06/09/2017
More updates and photos from our farm research site, ME-4 in Maine!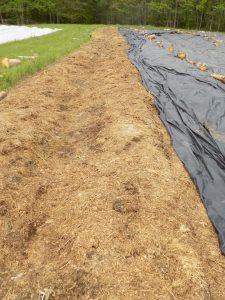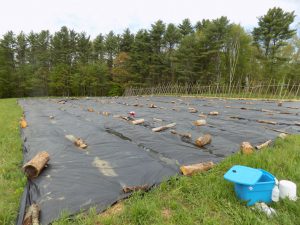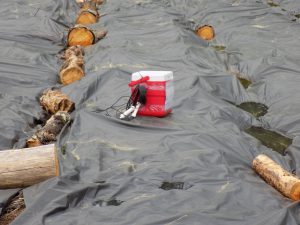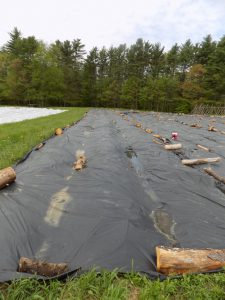 ---
05/05/2017
Our research is getting underway! Here are some photos from one of our farm sites in Maine.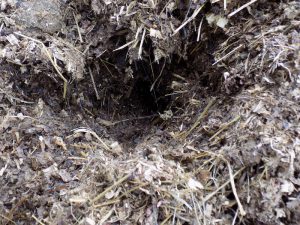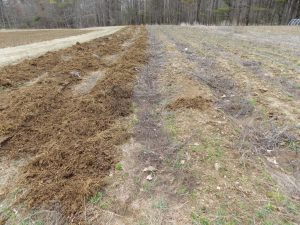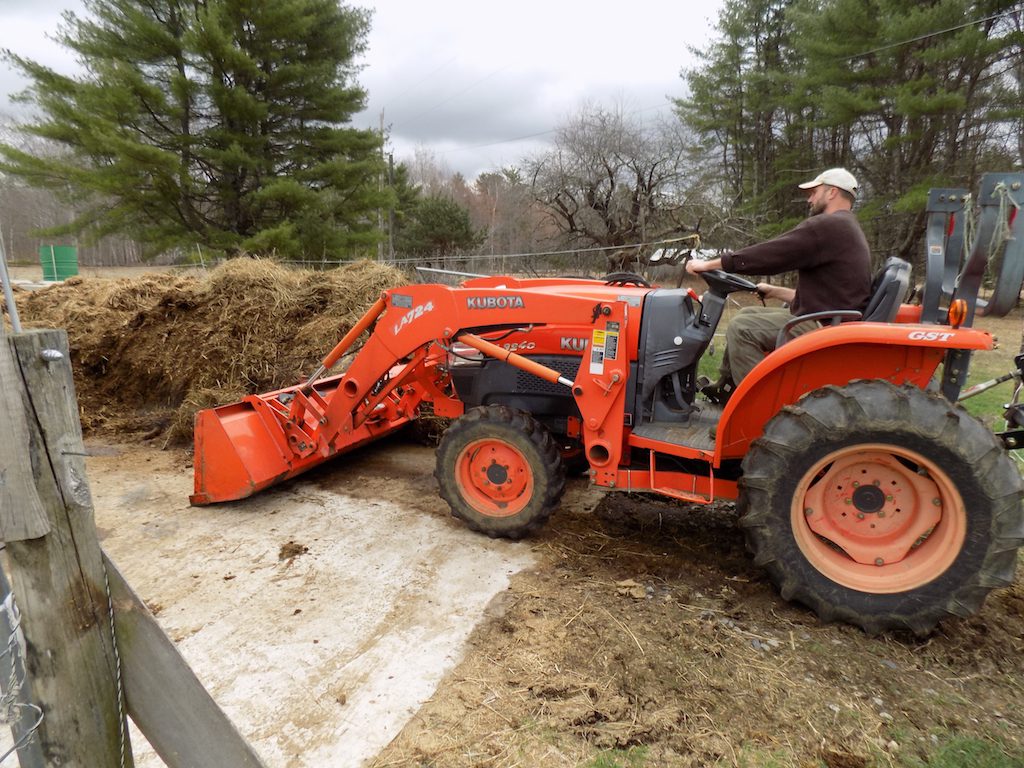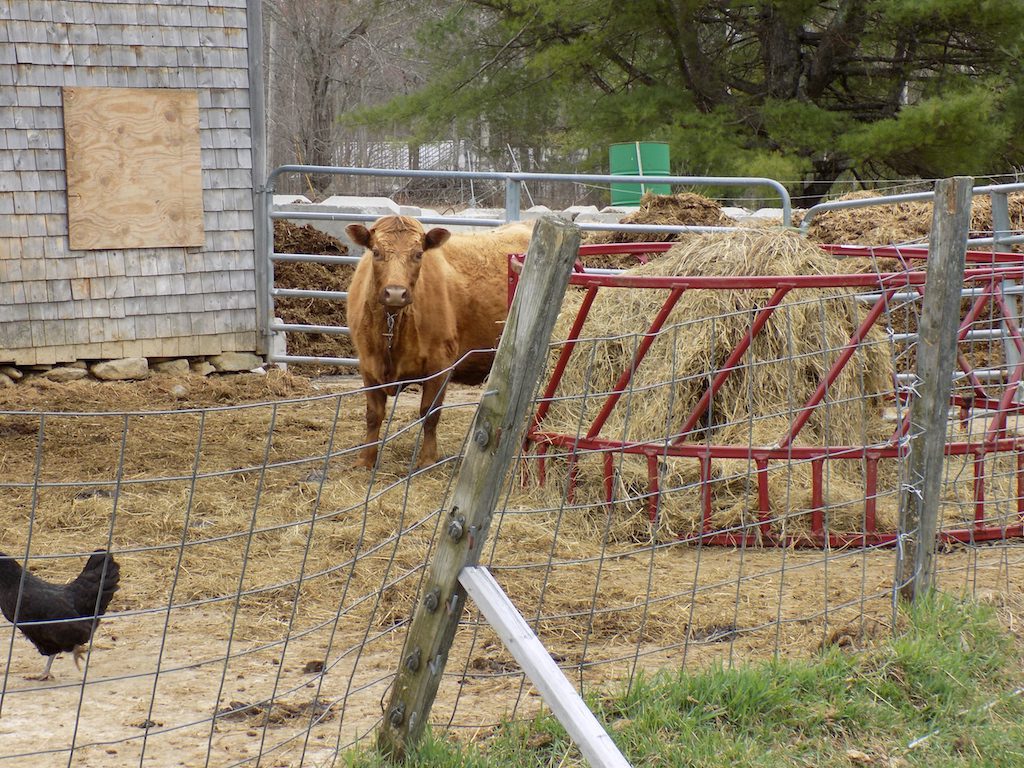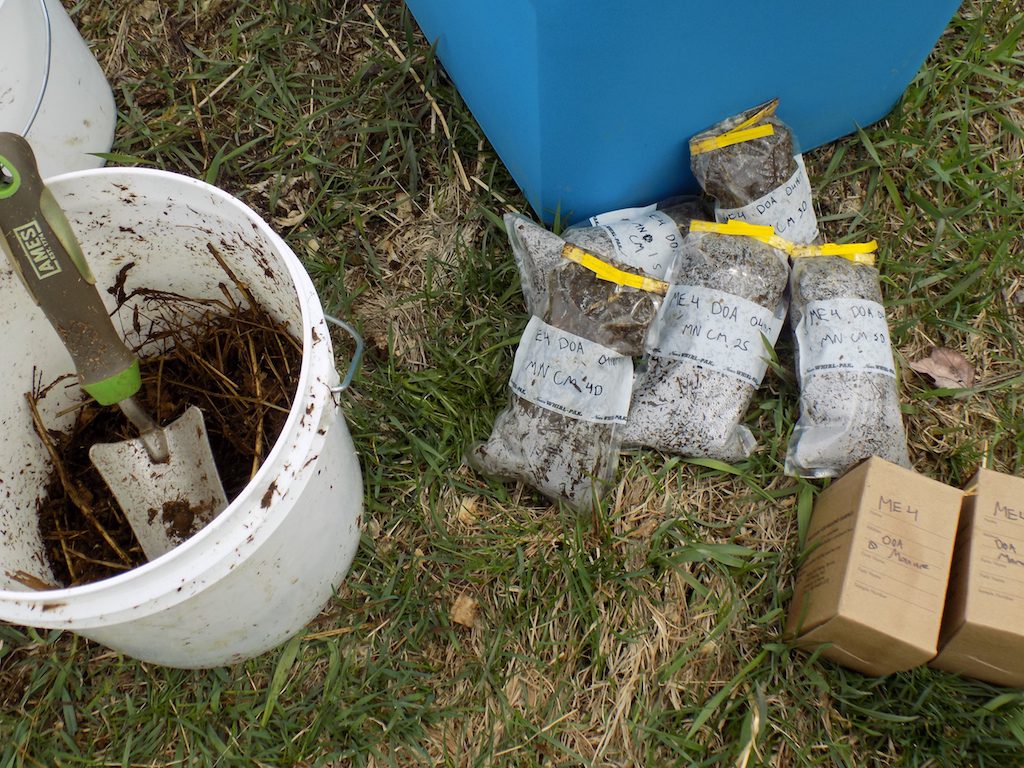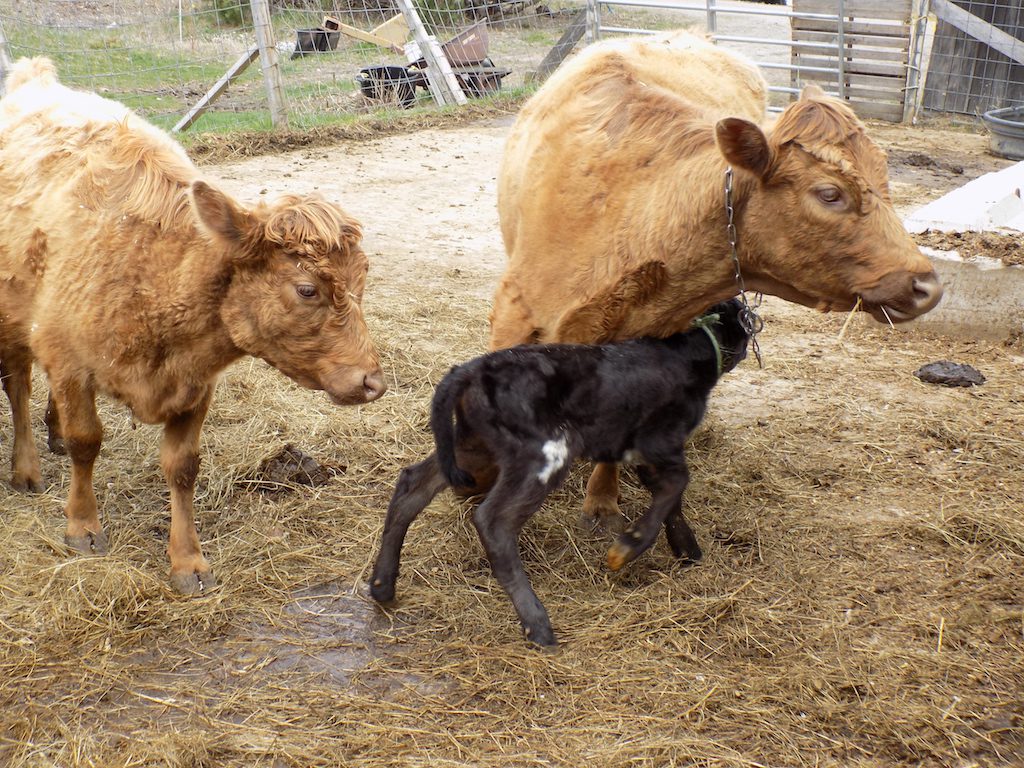 ---
12/14/2016

The University of California Division of Agriculture and Natural Resources released a blog about our study! Their post is helping us find farmers in California who are interested in partnering with us on our research.  It's not too late – we're still looking for farmers in California.  We'll be collecting produce, water, soil, and manure samples to test them for bacterial indicators, and in exchange for participating the the two-year study we're offering a $700 stipend.  Contact Dr. Pires at (530) 754-9855 or apires@ucdavis.edu, or Dr. Jay-Russell at (530) 219-4628 or mjay@ucdavis.edu if you are interested!
---
10/20/2016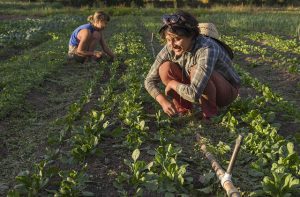 We are looking for farms to participate in our research on vegetable production that uses raw manure (dairy or chicken or horse)! The core goal of the study is to validate the 90 days wait period, or potentially provide information on how long it really takes for pathogens to disappear from soil and produce after raw manure application. During the study duration, we would like to collect a soil sample and a manure samples before any manure is applied, a soil sample soon after manure is applied, and 6 soil and produce samples during the growing season, every 30 days, for biological analysis. The study will go on for 2 years and at the end the farmer will be given $700 for participating in the entire 2 year project.  For contact information or more information on how to participate view our California flier if you are located on the West Coast, our Maine flier if you are located in the Northeast, or Maryland flier if you are located on the mid-East Coast, and our Midwest flier if you are located in  Minnesota, Northern Iowa, eastern Dakotas, and western Wisconsin.
---
09/29/2016
We are thrilled to announce that we have been awarded funding for our research from the USDA Organic Research and Extension Initiative.  The grant (exact amount $1,999,848) will support research examining the relationship between manure use in improving soil health and food safety, concentrating on organic fresh produce production. Read the full press release here!