The Center's Work on Organic Research Priorities Highlighted at NOSB Meeting
Since 2011, the National Organic Standards Board (NOSB) has initiated an annual public comment process to collect, prioritize and advocate for research related to use of materials in organic production or handling that researchers in many fields can use to defend and solicit funds for research benefiting organic food and agriculture. In doing so, they created a formalized approach for passing a proposal once a year that includes a list of prioritized research topics as supported by organic stakeholders.
In support of the proposal put forward prior to NOSB's fall meeting in October, The Organic Center submitted comments explaining how The Center relies on the annual NOSB research priorities to guide the development of its own research projects. The comments explained how The Center uses the published research list and detailed example projects such as the report on how to fight fire blight in organic fruit with organic, non-antibiotic methods, and research to develop organic solutions for citrus greening, assess soils health on organic farms and protect organic agriculture from inadvertent pesticide residue contamination.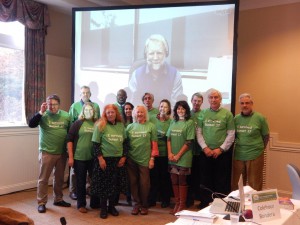 During the in-person meeting, NOSB member Jennifer Taylor delivered the summary of the Research Priorities for 2015 and the comments the Board received. In doing so, Taylor acknowledged The Center by saying the process the organization follows and the way it uses the recommendation is a model of what NOSB intended and envisions. "It was a proud moment during the meeting to hear a Board member literally read almost the entirety of The Center's comments into the public record. This doesn't happen very often! The proactive and effective work of both OTA and The Center were highlighted several times during the meeting. It's really great to see us setting examples and driving forward progress in such a critical environment as the NOSB meetings,"  said Gwendolyn Wyard, OTA's Senior Director of Regulatory and Technical Affairs.