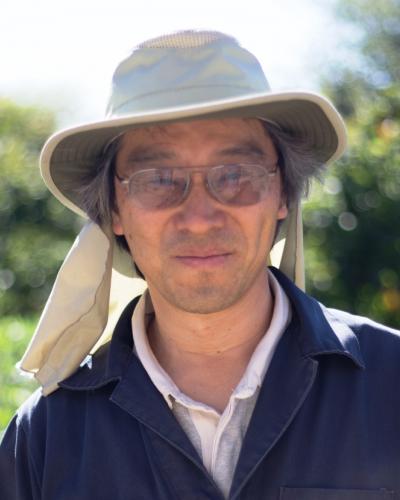 UCCE Organic Production Specialist
University of California, Santa Cruz
Joji Muramoto joined ANR as an assistant Cooperative Extension organic production specialist. The first UCCE specialist hired to focus on organic agriculture, Muramoto will coordinate a statewide program focused on fertility and pest management in organic production systems across the state. He has a joint affiliation with UCCE and the Department of Environmental Studies and the Center for Agroecology and Sustainable Food Systems (CASFS) at UC Santa Cruz.
Muramoto, who is fluent in Japanese, is also an affiliate professor in the Department of Agricultural Chemistry, Tokyo University of Agriculture, Japan.
Prior to joining ANR, Muramoto served in multiple capacities at UC Santa Cruz. Since 1996, he has conducted research and extension on fertility and soil-borne disease management in organic and conventional strawberry and vegetable production in coastal California. Over the course of his 32-year career as a soil scientist/agroecologist, Muramoto has secured and managed over $11 million of external grants as a principal investigator or co-PI, conducted numerous field-based research projects, published 39 peer-reviewed or invited papers or book chapters including several multidisciplinary papers, supervised more than 100 undergraduate student workers and interns, and given more than 90 extension presentations in California.
Muramoto earned a Ph.D. and an M.S. in agriculture chemistry (soil science), and a B.S. in agriculture chemistry from Tokyo University of Agriculture.