Organic Center benefit raises a record $485,000 to fund organic research
Annual event celebrates science-based work of The Center to advance organic
Almost 500 organic visionaries, activists and businesses from around the country gathered on March 6 for The Organic Center's 16th annual Benefit Dinner in Anaheim and raised a record $485,000 to further the important work of the non-profit research and education organization.
"This year's benefit dinner was critical for fostering the important work of The Organic Center to take the scientific understanding of organic's benefits to new heights," said Dr. Jessica Shade, Director of Science Programs for The Organic Center. "The Center is connecting the science on soil and climate and organic to farmers and farmworkers in ways that allow them to succeed."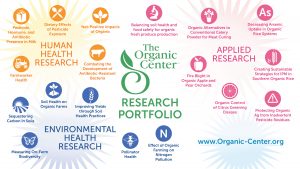 "We're advancing groundbreaking research that deepens the understanding of organic benefits – through its ability to foster healthy soils and to help mitigate climate change – to eaters and the people who work on our farms and in our fields," said Shade. "We are thankful for the organic community's deep support of our work. Our serious research portfolio will result in published advancements in the science of organic in 2019."
In addition to an update on The Organic Center's accomplishments, dinner attendees heard firsthand from a mom whose quest for nutritious convenient food for her family resulted in the creation of an organic fast food restaurant chain, honored an environmental health scientist who has devoted his career to studying the impacts of pesticides and other environmental components on the health of children, and were treated to a scrumptious all-organic feast from a chef and well-known food media personality.
The event featured entrepreneur and organic food advocate Shannon Allen as keynote speaker. Wife of two-time NBA champion Ray Allen, she is the creator and owner of grown™, the first 100 percent certified organic fast food restaurant with a drive thru on the East Coast. The highly anticipated event -- the single biggest fundraising event for The Organic Center and the largest business networking dinner at Natural Products Expo West -- also celebrated the research work of Dr. Asa Bradman who received The Center's Award of Excellence, featured an organic feast created by Chef Megan Mitchell and was a resounding success to support the latest science on the environmental and health benefits of organic food and farming.
Allen said that growing up in the 1970's with parents who canned fresh food, and then trying to navigate today's pervasive calorie-rich, nutrient-lacking fast food culture inspired her effort to re-invent fast food. She thanked The Organic Center for recognizing her efforts to improve access to healthy food options.
"I can't be more proud, and more grateful to The Organic Center for having us, and making us feel our mission matters, because it does," said Allen.
Award of Excellence to a worthy recipient
Dr. Bradman, who co-founded the Center for Environmental Research and Children's Health (CERCH) at the University of California at Berkeley, was honored by The Organic Center with its Award of Excellence. Dr. Bradman helps direct exposure and health studies as part of the Center for the Health Assessment of Mothers and Children of Salinas (CHAMACOS) partnership in the Salinas Valley in California. CHAMACOS is the longest running longitudinal birth cohort study of pesticides and other environmental exposures among children in an agricultural community. CHAMACOS means "small children" in Mexican Spanish, which reflects the population served.
Dr. Bradman has co-authored some of the most important work on the impacts of pesticides on the health of pregnant women and children in agricultural communities, with several studies showing links between higher organophosphate pesticide exposure during pregnancy and poorer neurodevelopment in children.
Special thanks to the sponsors
"The Organic Center's annual dinner at Expo West is an important vehicle that helps drive the science and research projects so crucial for organic, and the incredible generosity of our sponsors made this another inspirational and unforgettable event, and sparked the fundraising to a new record," said Melody Meyer, member of the Host Committee for the dinner. "Being there with leaders across all segments of the organic community was truly the highlight of my Expo experience. I hope everyone comes back next year and brings a friend!"
Sponsors for the benefit dinner included General Mills, grown™, New Hope Network, Danone North America, Honest Tea, Organic Valley, Que Pasa, Stonyfield Organic, Whole Foods Market, Braga Fresh Family Farms | Josie's Organics, Cal-Organic Farms, Clover Sonoma, Driscoll's, Frontier Co-op, Gallant International Inc., Independent Natural Food Retailers Association (INFRA), Once Upon a Farm, Patagonia Provisions, Prairie Organic Spirits, Simply Organic, and Urban Remedy.