Amy's Chunky Tomato Bisque with Cheesy Toast Topper
Tomato soup pairs so well with grilled cheese sandwiches and this recipe offers a twist on the sandwich to changes things up. Canned tomatoes make this recipe fast and easy and if you've stocked up, then it will help thin out your pantry supply.
If you prefer a vegan option then swap out the Italian cheese blend for your favorite plant-based cheeze shreds and use Amy's vegan chunky tomato bisque. Or if you're gluten free then us GF bread instead of the regular baguette slices
This recipe was created by our friends at Amy's.
The Recipe
Makes 4 servings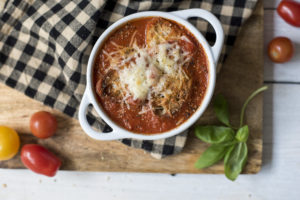 Ingredients
1 baguette, sliced into ¾-inch pieces
Olive oil for drizzling
½ tsp garlic powder
1-1½ cups shredded Italian cheese blend
Chopped fresh parsley and basil for garnish
Freshly ground black pepper
4 cans Amy's Chunky Tomato Bisque
Cooking instructions
Turn the oven on to broil. Lay out the slices of baguette on a sheet pan, drizzle lightly with olive oil and sprinkle with garlic powder. Place under the broiler for about 1-2 minutes or until the slices just start to get golden brown.
Pour warm Amy's Chunky Tomato Bisque into oven-safe bowls and place bowls onto a cookie sheet. Top each soup with 3-4 toasted baguette slices, sprinkle with Italian cheese blend, then set back under the broiler until the cheese is bubbly and golden brown.
Be careful when removing the soups from the oven – the bowls will be very hot! Sprinkle each soup with freshly chopped basil, parsley and black pepper to serve.