Ancho Chile Chocolate Cookies by Sensient Natural Ingredients
There is not much in this world that pairs better than chocolate and chiles. We are were so excited when Sensient Natural Ingredients shared this recipe with us and instantly ran to our kitchens to test it out. If you can get your hands on the key ingredient here: Sensient Natural Ingredients Organic Ancho Chili Powder, then you are in for a real treat! If you're in a pinch and need a substitution, then you can use ½ powdered cayenne pepper and ½ smoked paprika instead (or all cayenne if you don't mind the heat and are missing the paprika as well). Organically grown chiles have no toxic or synthetic pesticides or fertilizers. 
The Recipe
Ingredients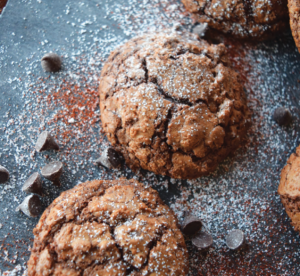 2 cups semi-sweet chocolate chips
1 cup all-purpose flour
2 large eggs
½ cup sugar
4 tbsp unsalted butter, softened
¼ cup brown sugar, packed
1 tsp vanilla extract
2 tsp Sensient Natural Ingredients Organic Ancho Chili Powder
1 tsp roasted cinnamon powder
½ tsp baking powder
½ tsp salt
Cooking Instructions
Preheat oven to 375°F.
Melt 1 1/3 cups of chocolate chips, reserving 2/3 cups to use later.
Mix flour, roasted cinnamon, ancho chili powder, baking powder and salt into a bowl.
In a separate bowl, beat butter and sugar until light and fluffy.
Add in eggs and vanilla to the bowl and mix well.
Add in melted chocolate into the egg mixture until well combined.
Gradually beat in the flour mixture until well mixed
Stir in the rest of the chocolate chips.
Drop dough by using 1oz scoops 1-1/2 inches apart on parchment lined baking sheets.
Bake for 15 minutes or until cookie just sets and cracks on top.
Resist the temptation to eat straight out of the oven. Let the cookies cool for at least 10 minutes before serving.