Bubble and Squeak (Potato Pancakes)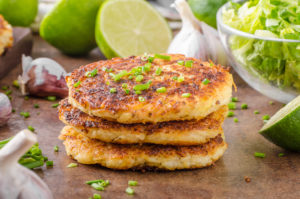 This recipe of British origin is a great way to use leftover mashed potatoes or to spruce up the usual mashed potato side dish by adding vegetables and pan frying. You can make either one giant pancake or smaller individual portions.
The Science
Potatoes provide a valuable source of vitamins, minerals and antioxidants, and research shows that organic potatoes surpass their conventional counterparts in nutrient content. A recent study published in the journal Agronomy found that organic potatoes contained significantly higher amounts of important polyphenols and flavonoids like quercetin. These antioxidants are often insufficient in today's western diet, and increasing their consumption can help prevent many diseases such as cancers and heart disease. The authors suggest that the use of synthetic fertilizers and pesticides reduces the production of antioxidants in conventional fruits and vegetables. Organic farming exposes plants to more stress, causing them to produce more antioxidant compounds that are used for plant defense.
The Recipe
Ingredients
Outside of potatoes, the types and amounts of ingredients are really up to your preference. The following is a list of suggestions that can either also be leftovers or cooked to add to the mashed potatoes:
Leftover mashed potatoes OR 2 lbs. of raw, peeled potatoes to boil
Chopped cabbage
Chopped or shredded carrots
Yellow onions thinly sliced
Frozen peas (thawed)
Green onions chopped
Egg for binding (optional)
Cream or milk for binding (a few tablespoons)
Salt and pepper to taste
Cooking instructions
If you are using all leftovers, then skip the steps that require cooking and start with the combination of ingredients.
To cook the raw potatoes, bring a large pot of salted water to boil and add peeled and coarsely chopped potatoes. Boil until tender to the fork, drain, and mash. Add butter, milk or cream as you like for your preferred consistency. Lumpy mashed potatoes may be preferred.
With oil, sauté yellow onion over medium heat until transparent or slightly caramelized. Add chopped cabbage and carrots and cook until softened and finally, add peas until warmed.
In a mixing bowl, combine potatoes, optional egg, cream or milk, chopped green onions, and salt and pepper to taste.
Stir in cooked vegetables to the potatoes
To make one giant pancake, pour potato mix into prepared skillet and cook until golden on both sides. Flipping will be tricky--your best chances are to cover the skillet with a plate and turn the skillet upside down onto the plate. Then put the skillet back onto the stove, and slide the pancake back into the pan, cooked side up.
If doing individual pancakes, scoop out mix for desired size, flatten to form a patty roughly ½ to ¾ inches thick. Set aside on a plate or cookie sheet and continue until potato mixture is gone.
Preheat the oven to a low temperature that will keep cooked patties warm.
Heat a large skillet coated with oil to medium-high and add the patties to the preheated pan. Cook until golden and use a wide spatula to flip. Patties may be soft and delicate so a thin, wide spatula is best. Cook until golden brown on the other side, and place on a cookie sheet/baking pan.
Keep baking pan with patties warm in the oven until ready to serve.
Serve with a side salad, breakfast sausages or eat on their own!
Categories:
Breakfast, Appetizers, Gluten free, Other, Sides, Thanksgiving Recipes