Be a hero around the house with a Calzone Party! Calzones are a fun twist on pizza and just as flexible so you can use whatever ingredients you have on-hand or need to use up. Our friends at CADIA sent us this recipe along with some suggestions for ingredient combinations. They also recommend making mini calzones, which are fun and the perfect size for kids.
Calzone Ideas: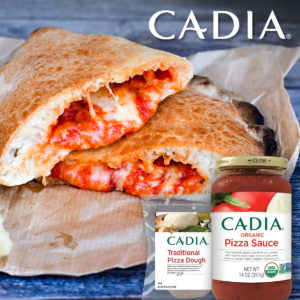 3 Cheese: Mozzarella + Ricotta + Parmesan
Pepperoni + Jalapeno
Spinach + Mushroom
Sausage + Green Pepper
Ricotta + Hamburger
Vegan Cheese + Olives + Artichoke
Ingredients
2 CADIA 16 oz. Organic Pizza Dough or prepared dough (yield 8 mini calzones)
3-4 jars 14oz. CADIA Organic Pizza Sauce
1 Beaten Egg
2 tsp of Water
+ variety of fillings
Cooking Instructions
Preheat oven to 425°F. Line a large baking sheet with parchment paper or spray sheet with oil.
Cut the pizza dough into 4 pieces. Then make little balls, then roll out into even round shape.
Place your ingredients + a spoonful of sauce in the middle of each round. Fold over the dough to create the calzone and pinch the edges shut. Using a fork, crimp the edges.
Continue filling the mini calzones and reshape dough as needed. Don't forget to identify calzone ownership, this is important.
Transfer mini calzones to prepared baking sheet.
An egg wash will seal and shine the calzone. Mix egg and water and lightly brush on the top of your creation.
Bake for 10-12 minutes until lightly browned.
During the last 2 minutes, top with pizza sauce and a sprinkle of parmesan cheese.
Serve with a side of CADIA Pizza Sauce, for dipping!