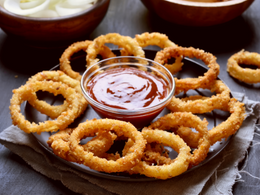 A little sweet, a little spicy. Nothing hits the spot like these Cajun onion rings. This snack falls far from the health food category, but you can still up your antioxidant uptake by using organic onions when you make this recipe!
The Science
A study published in the journal Archives of Agronomy and Soil Science compared the effects of organic and conventional farming on onion chemical quality, and soil health indicators--soil organic carbon and microbial activity. Compared to the conventional plots, onions grown in the organic plots had higher levels of antioxidants including total phenol, total flavonoid, ascorbic acid and quercetin-3-glucoside. The organic plots also exhibited improved soil health with higher levels of soil organic carbon, a larger population of soil microbes, and more enzyme activity from beneficial microorganisms.
The Recipe
Ingredients
1 quart of oil for frying
2 large organic Vidalia onions or other sweet onions
2 ½ cups organic flour
2 tsp. baking soda
2 tsp. salt
2 organic eggs
1 cup of organic milk
1 ½ cups organic panko flakes
1 tsp. organic cayenne pepper (more if you like them very spicy)
1 Tbsp. organic garlic powder
1 Tbsp. organic sweet paprika
1 tsp. dried organic oregano
1 tsp. dried organic thyme
1 tsp. freshly ground organic black pepper
Directions
Slice the onions into rings and set aside. In a large bowl, mix the flour, baking soda, salt and spices. In another bowl, whisk together the milk and eggs. Pour the panko into a wide, shallow bowl. Dip each onion ring into the flour and spice mixture, then into the milk and eggs, and finally into the panko crumbs.  The onion ring should be fully coated after each step.  Place finished onion rings on a wire rack until they are all coated.
Heat the oil in a deep saucepan or deep fryer until it reaches 360 degrees (this can be done while you are coating the onion rings. However, if you are frying on the stovetop, keep an eye on the oil so that it does not get too hot, potentially starting a grease fire). Working in batches, drop several onion rings into the oil at a time and fry them for 2-3 minutes or until they are golden brown.  Remove them from the oil with a metal slotted spoon, and place them on a paper towel. Once they are finished, salt to taste and serve hot.
Banner Photo Credit: Tatiana Volgutova; istockphoto.com