Cal-Organic's White Bean & Kale Soup
Bean soup is a hearty and delicious way to use up those canned beans in your pantry. The kale in this recipe could be substituted with other greens like chard, spinach, cabbage or hearty collards. This soup pairs well with buttered bread or toast. Our friends at Cal-Organic sent us this recipe, which can be easily made in a slow-cooker to free up your time and hands.
The Recipe
Keep in mind that this is a slow-cooker recipe so you need to plan ahead, but the prep time is fast!
Prep time: 10 minutes
Cook time: 5 - 7 hours
Serves: 4 - 6
Ingredients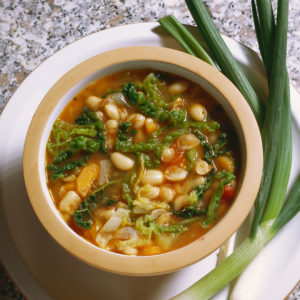 1 lb. Cal-Organic Green Kale
1 medium Cal-Organic Yellow Onions
6 Cal-Organic Green Onions
15 oz. cannellini beans, canned
42 oz. vegetable stock
15 oz. tomato purée
1/2 cup converted rice
2 tsp. basil
2 cloves garlic
1 1/2 tsp. kosher salt, to taste
Freshly ground black pepper, to taste
Freshly grated Parmesan cheese, for garnish
Olive oil, for serving
Cooking Instructions
Rinse and drain cannellini beans.
Combine beans, vegetable stock, tomato puree, rice and basil in the slow cooker.
Finely chop peeled onion and garlic and add to cooker. Season with salt and pepper, to taste, and stir to blend.
Cover and cook on low for 5 – 7 hours.
Remove tough stems from kale and cut into ribbons, then thinly slice green onions.
Add kale and green onions to cooker and cook on low until kale is tender, about 20 minutes.