Cherry Chocolate Oatmeal by Nature's Path
If you love chocolate-covered cherry lovers, then this oatmeal is for you! Breakfast can be the most decadent meal of the day and it doesn't have to be difficult to make. This recipe is loaded with lots of delicious ingredients and textures from vanilla, sweet cherries, dark chocolate chunks, shredded coconut and crunchy Vanilla Pumpkin Seed granola.
This recipe was created by Brittany Mueller ilovevegan.com and shared by our friends at Nature's Path, where you can find more recipes.
The Recipe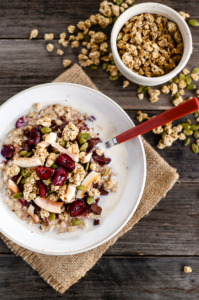 This is designed to make a single serving so double or triple if you have more mouths to feed! Also, see instructions at the end to substitute different types of oats depending on your preference.
Ingredients
1 cup water
½ cup Nature's Path Old Fashioned Organic Oats
2 tbsp dried coconut
1 tbsp maple syrup
¼ tsp pure vanilla extract
Pinch salt
¼ cup chopped fresh or frozen sweet cherries
Sprinkle of Nature's Path Vanilla Pumpkin Seed granola
2 tbsp chopped dark chocolate
1 tbsp toasted coconut
1 tbsp pumpkin seeds
Almond milk (optional, for topping)
Cooking instructions
In a small saucepan, heat water, oats, dried coconut, maple syrup, vanilla, and salt over medium heat. Stir often and cook until oatmeal reaches your desired consistency (about 3-5 minutes.)
Stir chopped cherries into oatmeal and transfer into a bowl.
Top oatmeal with a sprinkle of Nature's Path Vanilla Pumpkin Seed granola, chopped dark chocolate, toasted coconut, pumpkin seeds, and a splash of almond milk.
Notes on oats:  This recipes is designed for Nature's Path Old Fashioned Organic Oats. If you're using another type of oats, adjust the recipe accordingly:
Quick oats: Reduce cooking time to 1-2 minutes.
Quick cook steel cut: Use ¼ cup of quick cook steel cut oats and ¾ cup water. Cook for 5-7 minutes.