Collection of Burger Recipes from Whole Foods Market
Who else misses going out for burgers? Burgers can make easy dinners and when the weather is nice, the opportunity to BBQ is always welcomed. Our friends from Whole Foods Market shared with us a collection of burger recipes that gets creative and accommodates many dietary preferences. We love that the homemade veggie burger recipes utilize pantry ingredients you'll likely have on hand, while other recipes explore meats beyond the typical beef patty, like turkey and seafood.
Here we highlight one of their veggie burger recipes, but be sure to check out the rest of the collection for many more ideas.
HOMEMADE BLACK BEAN BURGERS
The Recipe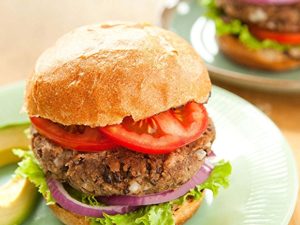 Makes 6 patties
Ingredients
1 (15.0-ounce) can  black beans, drained and rinsed
1 egg
1/2 yellow onion, chopped
1 cup whole wheat dry bread crumbs
1 teaspoon dried oregano
1 teaspoon dried basil
1/2 teaspoon garlic powder or granules
1/2 teaspoon fine sea salt
1/2 teaspoon hot sauce
1 tablespoon extra-virgin olive or canola oil
6 whole wheat hamburger buns
6 green leaf lettuce leaves
2 tomatoes, sliced
1/2 red onion, thinly sliced
1/2 teaspoon ground black pepper
Cooking Instructions
Put beans in a large bowl and mash well with a fork.
Add egg, yellow onion, bread crumbs, oregano, basil, garlic powder, salt, pepper and hot sauce.
Mix well to combine then shape into 6 patties.
Heat oil in a large skillet over medium heat.
Arrange patties in a single layer (working in batches, if needed) and cook, flipping once, until golden brown on both sides and cooked through, about 10 minutes total.
Transfer to buns, top with lettuce, tomatoes and red onions and serve.
Be sure to look for other tasty recipes from the collection like Bahn Mi Grass-Fed Beef Burgers, Seafood Burgers with Roasted Cabbage Slaw, and Big Blue Burgers with Cherry Mustard. Yum!