Frontier Co-Op's Turmeric Noodle Soup with Greens
Brothy, noodle soups feel like the best thing when you're sick, and can even just warm you up on a chilly spring day. This is a fantastic non-meat and gluten-free recipe created by our friends at Frontier Co-Op.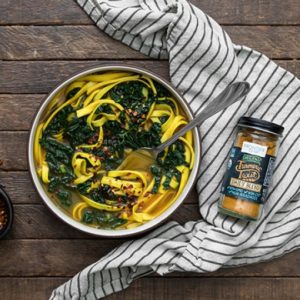 The Recipe
Ingredients:
2 teaspoons Frontier Co-op Organic Turmeric Twist Spice Blend
Frontier Crushed Red Chili Peppers
2 teaspoons coconut oil
2 cloves garlic, minced
2 cups shredded kale
2 to 3 cups vegetable broth
4 ounces soba noodles
Directions:
In a saucepan, melt coconut oil over medium-low heat. Add the minced garlic and cook for a minute then stir in the shredded kale and cook for a minute, just to start the kale wilting.
Transfer to a bowl and return pot to heat. Add 2 cups of the vegetable broth to the pan along with the turmeric powder. Whisk well then bring to a boil, reduce to a simmer, and add the soba noodles to the broth. Cook until the noodles are tender then stir in the kale. If the noodles absorb quite a bit of broth, add another ½ to 1 cup of broth as needed.
Divide the noodles into two bowls and ladle broth over noodles. Top with chili flakes before serving.
If you're gluten-free, check to make sure you're using 100% buckwheat flour noodles. Most soba noodles are made with wheat flour but there are noodles on the market that are made with 100% buckwheat flour.