Horizon Organic's Fettuccini Alfredo
There isn't a pasta sauce that's much more satisfying than fettuccini alfredo, and with so few ingredients, good quality dairy products make a huge difference in flavor when you can get them. Our friends at Horizon Organic have lots of great recipes on their website, but they sent us this one to highlight since it uses pantry staples (pasta), is super easy to make, and is attractive to family members of all ages. This is a meal fit for any night of the week.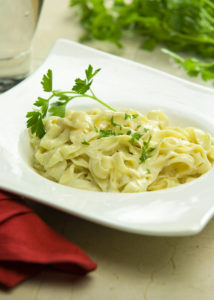 The Recipe
Ingredients
1

 pound fettuccine

4

 tablespoons Horizon Organic unsalted butter

1

 clove garlic, minced

1

 cup freshly grated Parmesan cheese
Pinch of nutmeg
Freshly ground black pepper
Chopped fresh parsley, optional
Instructions
Prepare fettuccine according to instructions on box.
Meanwhile, melt butter in a saucepan over medium heat.
Add garlic and sauté for 2-3 minutes. Add half & half, reduce heat to simmer and cook for five minutes.
Add Parmesan cheese, nutmeg and pepper and cook for another minute until sauce is smooth.