Lundberg's Family Friendly Fried Rice
Fried rice is an easy meal that can be made any day of the week. It's flexible and can star any ingredients that you need to use up from your produce drawer and the freezer. This recipe was developed by our friends at Lundberg Family Farms and lists the typical fried rice veggies, but feel free to explore others like kale, collard greens, bok choi, root vegetables, and tofu. The flavors of sesame and soy will dress up just about anything you've got to use up. And don't underestimate the flavor and texture of brown rice in this recipe- you'll be surprised how much it adds.
The Recipe
Ingredients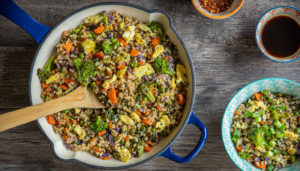 1 Cup Lundberg Family Farms Organic Short Grain Brown Rice
1 ¾ Cup Water
2 Eggs, beaten
1 Cup Broccoli, small florets
1 Cup Red Cabbage, diced
1 Cup Spinach
½ Cup Frozen Peas
½ Cup Carrot, diced
Green Onion, three stalks, sliced
2 Tbsp. Tamari
1 Tbsp. Toasted Sesame Oil
1 Tbsp. Ginger, grated
1 Tbsp. Garlic, grated
Cooking Instructions
Add 1 cup of Lundberg Family Farms Organic Short Grain Brown and 1 ¾ cups of water to a small saucepan and bring to a boil. Cover with a tight-fitting lid, reduce heat to low-simmer, and cook for 45 minutes. Uncover and transfer to a baking sheet or large bowl. Place in freezer for 15 minutes.
Crack both eggs in a small bowl and beat until combined. In a sauté pan, spray with cooking spray or add 2 tsp. neutral oil and eggs. Stir until cooked, set aside.
Dice carrots and cabbage and add to a sauté pan with frozen peas and broccoli on medium heat. Stir frequently for five minutes and add spinach. Stir for another two minutes. Grate ginger and garlic and set aside.
Remove rice from freezer and add to the pan along with the scrambled eggs, sesame oil, ginger and garlic. Turn heat to high and stir frequently for five minutes. Add tamari and stir for another two minutes.