Michelob Ultra's Marinated Chicken Skewers with Yogurt Sauce over Rice
This recipe transforms typical chicken wings flavors into a balanced meal that's tasty and less messy. The marinade and yogurt sauces are easy to whip up, and this recipe utilizes those interesting grains you might have waiting for you in your pantry like barley and wild rice. Tastemade created this recipe for our friends at Michelob Ultra who suggests pairing the skewers with their new organic beer Michelob Ultra Pure Gold.
As an added bonus, Michelob Ultra is running a program called six for six , where for every 6-pack this beer they sell, Michelob will transition 6ft2 of farmland to organic production!
The Recipe
Ingredients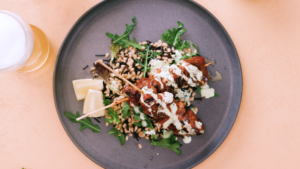 For the chicken skewers:⁠
1/2 cup coconut sugar⁠
1 tablespoon paprika⁠
1 tablespoon organic garlic, minced⁠
2 tablespoons fresh squeezed organic orange juice⁠
1/2 teaspoon salt⁠
1/2 teaspoon cayenne pepper⁠
1 1/2 pounds organic boneless skinless chicken thighs, cubed into 1 1/2-inch pieces⁠
2 organic lemons, halved⁠
⁠
For the herby yogurt sauce:⁠
2 cups Greek yogurt⁠
1/2 cup organic cilantro⁠
1/2 cup organic parsley⁠
1 organic serrano pepper⁠
Salt and pepper, to taste⁠
⁠
For the wild rice and barley:⁠
1 cup organic barley ⁠
1 cup organic wild rice⁠
6 cups vegetable broth⁠
⁠
Cooking Instructions
Preheat grill to medium-high heat.
For the chicken skewers: In a bowl combine all ingredients for marinade. Add chicken, thoroughly coating each piece. Leave for at least 1 hour and up to 6 hours.⁠
Divide 4 to 5 pieces of chicken between 8 skewers. Place skewers on grill pan and rotate for 5 to 8 minutes until cooked through and slightly charred.⁠
For the herby yogurt sauce: In a blender, combine yogurt with cilantro, parsley and serrano pepper. Add salt and pepper to taste and serve with skewers. ⁠
For the wild rice and barley: Soak 1 cup of wild rice in water for 30 minutes; set aside. Drain water and combine rice with barley.⁠
Bring vegetable broth and organic wild rice and barley to a boil, reduce to low and simmer until tender, about 20 to 25 minutes. Remove from heat. ⁠
Assemble the bowls with rice and barley, sauce, and chicken skewers. Finish with fresh squeezed lemon.