Neka's Roasted Purple Potatoes with Apple Cider Vinegar
The (in)credible science 
This recipe features purple potatoes, but honestly you can substitute any root vegetable for a delicious side. When it comes to root veggies it's all about the soil they're grown in, and organically managed soil has some major perks. We talk a lot about the multitude of benefits organic brings to soil health, but did you know that organic soil management doesn't just improve soil health - it can also control soil borne plant diseases by enhancing the soil microbial community! Researchers found that organic soils have more organic matter in the soil, which is known to support more beneficial micro-organisms, and indeed they also found more microbial biomass and activity in the organic soils.  The authors suggested that using soil-building practices that are commonly used in organic farming can help build the beneficial relationships between soil microbes that will improve crop health and yield.
The Recipe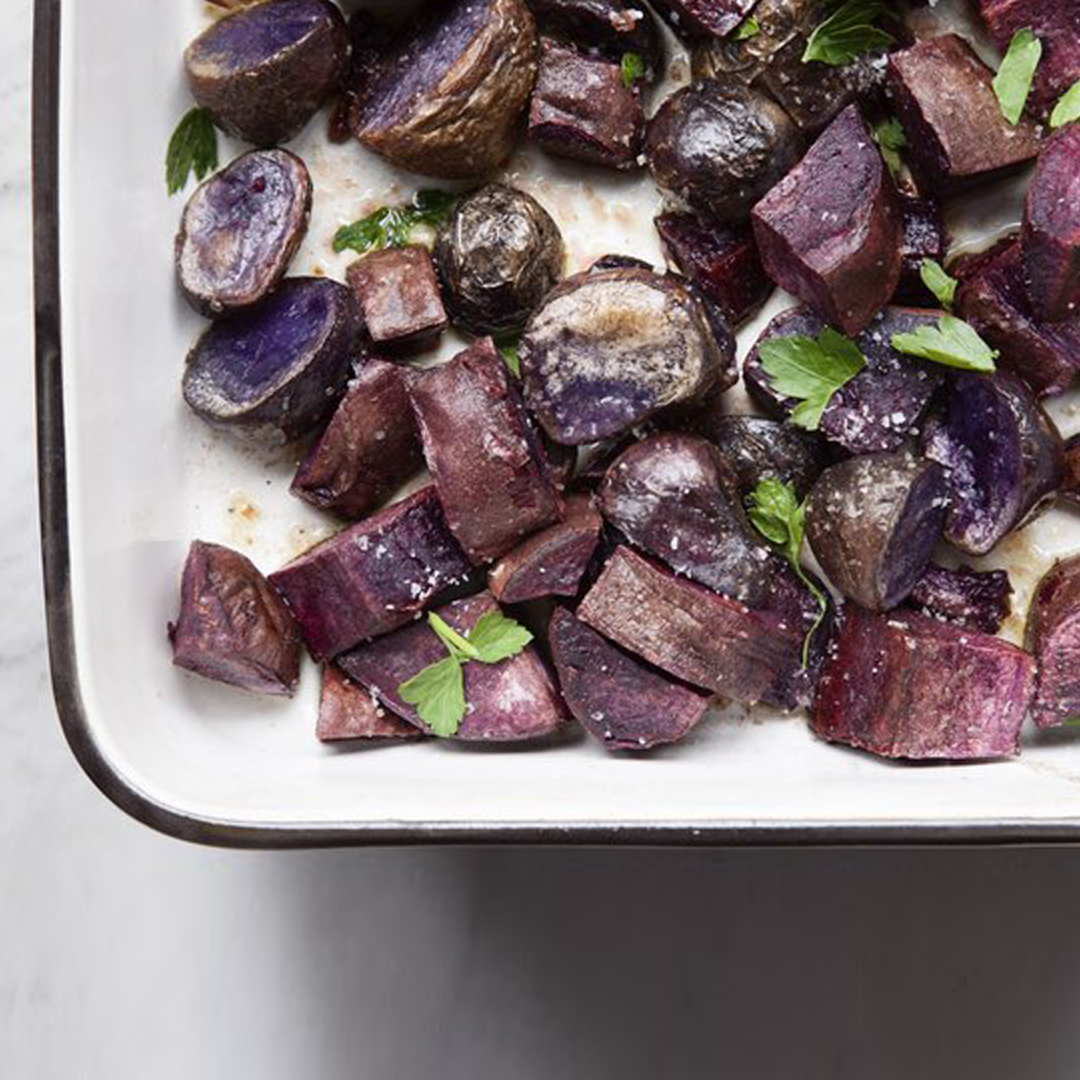 Thanks to our friends at Urban Remedy for sharing this collaboration with Bay Area-based Good Eggs. These irresistibly crispy potatoes are delicious eaten alone, as a side, or added to your favorite salad. It's a gluten-free, vegan dish of comfort food that's full of healing ingredients. Purple potatoes are packed with the antioxidant anthocyanin, a flavonoid that's known to boost immunity, battle inflammation,  and combat chronic disease. Don't forget to add three tablespoons of apple cider vinegar which helps lower blood sugar and improve insulin responses.
Ingredients 
3 pounds purple potatoes, roughly chopped into large chunks
1 tablespoon coconut oil
3 tablespoons apple cider vinegar
2 tablespoons olive oil
1 tablespoon flaky salt
Handful parsley, roughly chopped
Instructions 
Preheat oven to 325°F.
Pour coconut oil into a baking pan. Add the potatoes and lightly toss.
Bake until potatoes are tender and crisp, about 35 to 40 minutes. Remove pan from the oven and drizzle with olive oil and apple cider vinegar.
Put in serving dish and sprinkle with flaky salt and parsley. Serve immediately!
Categories:
Gluten free, Sides, Thanksgiving Recipes