Tofu is made from fermented soybeans, which can seem like a strange thing to eat. But even people who are new to tofu are surprised how delicious this side dish can be! The sesame seed crust gives the marinated tofu a crunchy texture that is hard to pass up. Pair this with rice and a stir-fry or an easy side of steamed broccoli.
The Science
Research published in the journal Food Chemistry shows that soybeans produced under different types of agricultural practices are not equivalent in nutritional quality. Specifically, when compared to conventional soy and soy that has been genetically modified to be glyphosate-tolerant, organic soy contains more protein, zinc and natural sugars. Beyond nutrition, glyphosate-tolerant soybeans contain high residues of glyphosate and the surfactant AMPA, which helps glyphosate bind to plants when sprayed to manage weeds. AMPA has been discovered to be more toxic than glyphosate itself.
This is especially important given that other research shows that animals fed with glyphosate-contaminated food can experience inhibited growth and survival. A study published in Aquaculture Nutrition, compared fitness in crustaceans fed with glyphosate-tolerant soybean meal versus organic. Findings showed that organic-fed animals outperformed GT-fed animals in growth, reproduction and overall survival.
Choose organic tofu and soy-based products so you can receive nutritional benefits and avoid glyphosate contamination.
The Recipe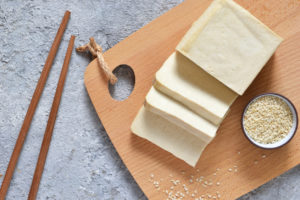 Ingredients
*Marinate the tofu at least 30 minutes before cooking
1 package extra firm tofu
Marinade:
½ cup soy sauce (organic is preferable)
½ cup water
2 garlic cloves minced
1 Tbsp. toasted sesame oil
Sesame crust:
1 cup raw sesame seeds (white seeds are sweetest but brown will work, just make sure the seeds you use are not already toasted)
2-3 Tbsp. all-purpose flour (or cornstarch if GF)
½ tsp salt
1/2 tsp. ground black pepper
2-4 tbsp cooking oil for pan-frying
Cookie sheet or large plate covered in paper towels to absorb excess oil after frying
Cooking instructions
Marinate tofu:
Cut tofu into ½ in. thick slices and place into a dish where the tofu can be completely submerged in the marinade: a Tupperware container with the slices arranged into the original block shape can be an efficient way to use less marinade, and with the lid on, it's easy to flip it over to ensure complete marinating on all sides.
Combine all marinade ingredients in a small bowl and pour over tofu. Make sure that marinade touches all sides of tofu slices and let soak for 30 minutes. Less time will mean less salty tofu, more time will increase flavor and saltiness. Check tofu for saltiness by tasting if soaking longer than 30 minutes.
Combine all sesame-crust ingredients in a shallow, but wide bowl (like a pasta bowl) for dipping.
Drain marinade off tofu and retain if you want to incorporate into a sauce (cook down with cornstarch, a little sugar, and Chinese cooking wine to make a tasty side sauce) or marinate more tofu in the near future.
*Taste marinated tofu before coating with sesame mixture. If it needs more salt, add more to sesame crust mixture.
Cook tofu:
Heat large pan with 2-3 Tbsp. oil on med-high heat. You want enough oil to coat the pan. If there's too much, the sesame seed crust will come off while cooking.
Press both sides of each tofu slice into the sesame crust mixture and place into hot pan. Fill the pan as full as possible
Cook each side until sesame seeds are toasted to a golden brown color. Try not to flip more than once to avoid sesame seeds from falling off tofu and burning in the pan.
Remove tofu slices from pan and place onto paper towels to absorb excess oil. If you couldn't get all the tofu in the first round, clean the frying pan and repeat the dipping and cooking process.
Banner Photo Credit: olgakr; istockphoto.com
Categories:
Appetizers, Gluten free, Sides