Use organic eggs to avoid pesticide resistant bacteria
The Research
Several studies have shown that using antibiotics in poultry rearing can increase the number of antibiotic resistant bacteria on eggs.  Researchers swabbed the outside of  conventional and organic egg shells to test for bacterial antibiotic resistance, and found that bacteria on the conventional eggs was less susceptible to antibiotics than bacteria on the organic egg shells.  One study concluded that their results "show that organic livestock farming plays a part in contributing to reduced antibiotic resistance", while another states "organic livestock farming with its restrictions and additional requirements contributes to further effectiveness of antibiotics."
The Recipe
Quiche is my go-to recipe when I have a bunch of random leftovers from a gathering or need to use up the veggies in the fridge. It is quick, packed full of nutrients, hearty, and you can make it with just about anything. It also freezes very well!
When I go out of town I make quiche with all of the leftovers in the fridge (so they don't go bad); afterwards, I freeze it. When I come home exhausted from travel, I just pop it in the oven for a quick and effortless dinner.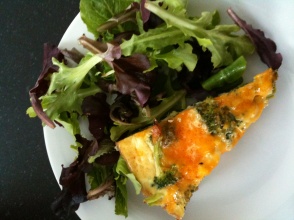 Ingredients
Organic whole wheat pie crust (in the frozen food section of your natural grocer)
3 large organic eggs
1 cup milk
1 tbs all-purpose flour
2/3 cups cheese
1/2 teaspoon salt
1/4 teaspoon freshly ground black pepper
1/2 teaspoon ground nutmeg (or other spice)
1 cup assorted vegetables of your choice
¼ cup meat, fish, or veggie protein (optional)
Big Pinch of herbs
Directions
Preheat oven to 400 degrees F.
In a large bowl, combine eggs, milk, salt, pepper, nutmeg, and herbs.
Stir your vegetables and/or meats.
In a separate bowl, toss shredded cheese and flour together.
Add cheese to egg mixture and stir well.
Pour mixture in to pie crust shell.
Bake in preheated oven for 35-40 minutes, or until knife inserted comes out clean.
Let quiche cool before serving.
My favorite variations:
Smoked salmon, scallions, dill, sliced cooked potato, and cream cheese.
Bell peppers, onions, frozen corn, spinach, jack cheese, and hot chili powder.
Banner Photo Credit: Dilyara Garifullina; unsplash.com