Salad Bites: endive boats with apple and cheddar
Looking for a quick, easy, and healthy appetizer to bring to a potluck? Try endive boats. These perfect little salad bites are sure to be a big hit and break up the mix of all of those heavy dips and nachos at the party.
As always please use organic ingredients whenever possible--for the health of you and your friends.  
The Research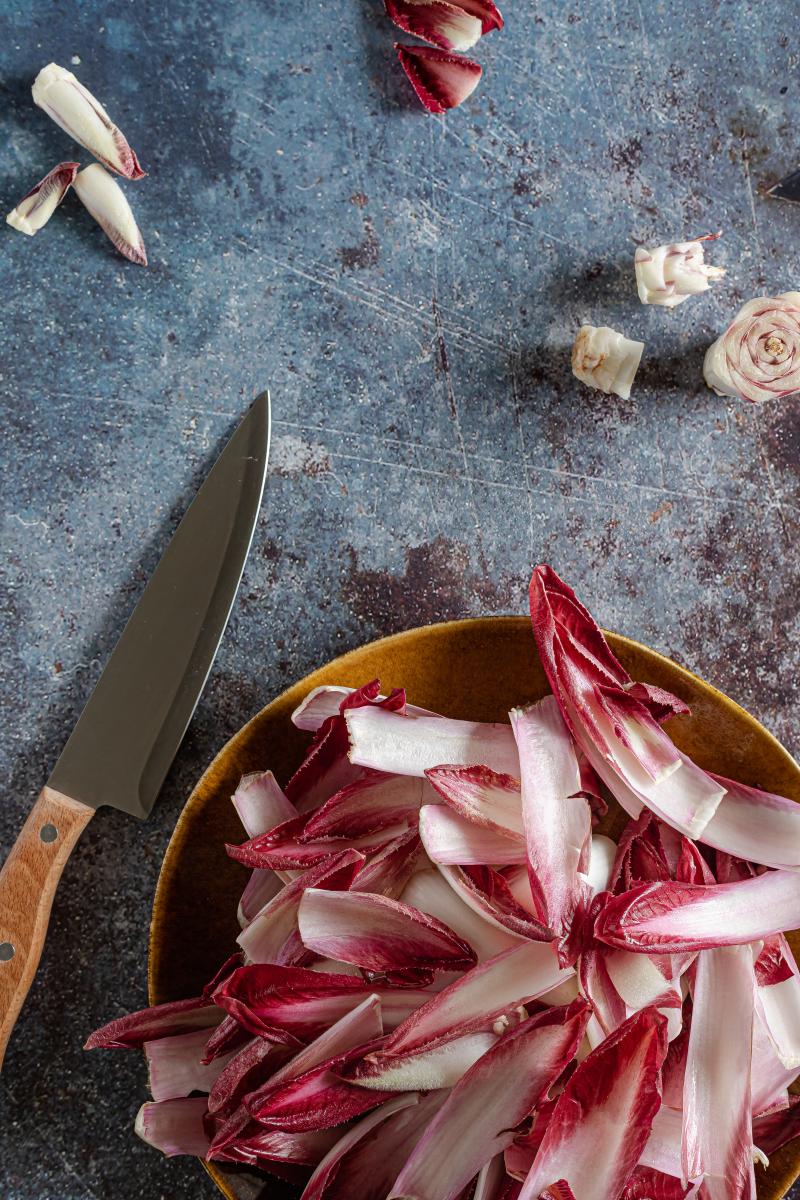 It is especially important to choose organic when you are considering your choices of dairy, such as the cheddar included in this recipe, because of organic dairy's health benefits.  For example,  one research that was published this year showed that organic milk has a healthier nutritional profile than conventional milk.  Specifically, the study showed that organic milk contains 25 percent less omega-6 fatty acids and 62 percent more omega-3 fatty acids than conventional milk, yielding a 2.5-fold higher omega-6: omega-3 ratio in conventional compared to organic milk.  This is important for your health, because current Western diets are notoriously unbalanced when it comes to omega fatty acid profiles, providing unhealthily high omega-6 levels and low omega-3 levels.  High omega-6 and low omega-3 levels are associated with many diseases, such as cardiovascular disease, cancer, and inflammatory and autoimmune diseases. Low omega-6:omega-3 ratios, on the other hand, suppress these conditions.  In addition to being more nutritious, organic dairy avoids the use of chemicals that you might not want to ingest on a daily basis such as pesticides, antibiotics, and growth hormones! 
The Recipe
Makes about 35 "boats"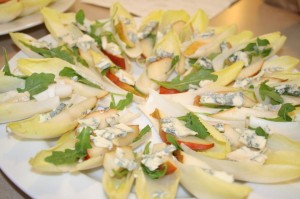 Ingredients:
5 large Belgian endives
Bag of baby arugula leaves
2 apples thinly sliced
Organic sharp cheddar thinly sliced
1/3  cup extra virgin olive oil
2 tbs Dijon mustard
2 tbs pure honey
2 teaspoons  apple cider vinegar
Directions:
Lay one baby arugula leaf inside the endive boat. Layer apple slice then cheddar slice. Top with another arugula leaf. Peel off the outer large leaves of the endive. These will be your boats. Repeat with all endives.
TIP: When the leaves start to get too small to make boats, cut the endive in half lengthwise. Cut out the core leaving the clustered leaves on the outside. Now you have two more boats to work with. You can also layer a few leaves to make a boat if your leaves are too narrow.
To make honey mustard dressing:
In a small bowl mix Dijon mustard, honey and vinegar until combined. Slowly whisk in olive oil. Salt and pepper to taste. Adjust honey and mustard to taste. Drizzle over endive boats right before serving.
OTHER IDEAS: Instead of apple and cheddar, substitute pear and gorgonzola or beets and goat cheese with lemon vinaigrette. Top with chopped pecans or hazelnuts.
Banner Photo Credit: Micheile Henderson
Categories:
Appetizers, Gluten free