Suntava's Purple Corn Chicha Morada
Chicha Morada is a Peruvian drink traditionally made with a variety or purple corn that grows in the Andes mountains. The color makes this a fun drink and it's reminiscent to a non-alcoholic sangria. In the U.S. you can find Suntava Purple Corn, which is organic and therefore non-GMO.
This recipe was created by our friends at Suntava Purple Corn.
The Recipe
Makes eight 2-cup servings
Ingredients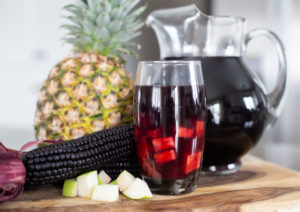 1 pound Suntava Purple Corn kernels (dry)
1 gallon water
1 stick cinnamon
6 whole cloves
1/2 cup white sugar
3 green-skinned apples
4 limes
1 pineapple
Cooking instructions
Rinse the purple corn kernels under the faucet to remove any dust or foreign matter. Place the kernels in a large pot together with the water, cinnamon, cloves and pineapple rind. Put the pot over high heat on the stove; once the water reaches the boiling point, reduce the heat to medium-low. Allow this to boil for about 50 minutes.
Remove the pot from the heat and allow it to cool down until safe to handle. Strain the liquid through a fine strainer into a pitcher. Add the sugar to the liquid and stir until it is completely dissolved. Taste, adding more sugar if desired, though this beverage is most refreshing when it is not overly sweet.
Chill the chicha for at least 4 hours before serving.
Right before serving, chop the apples and pineapple into small cubes and juice the limes. Add diced fruit and lime juice to the chicha in the pitcher and stir. Serve as-is or over ice, with a straw and a long spoon (for eating the fruit), if desired. Store any leftover chicha morada in the refrigerator.