Summit explores how to keep organic farmers in the know
Organic Center's Confluences Summit focuses on ways to transfer research knowledge to farmers
Washington, D.C. (June 1, 2018) – Today's organic farmer, like all farmers, is a consummate problem solver and master of many skills, from agronomy and animal husbandry to mechanics and marketing. Like all farmers, organic farmers must have reliable and up-to-date informational resources to fall back on to successfully deal with the daily challenges of their operations. However, because of the strict and unique standards that organic farmers must follow, the necessary assistance and educational tools for those farmers are often lacking.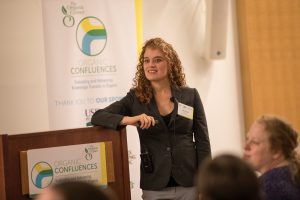 The Organic Center's third annual Organic Confluences Summit, held last week in D.C. as part of the Organic Trade Association's Organic Week in D.C., took a deep look into how to improve current ways to transfer knowledge to organic farmers. What are the biggest needs of organic farmers when it comes to getting critical technical assistance and educational support? How can our nation's agricultural extension system become more effective in working with organic farmers? These questions and more were part of the dynamic discussions.
The Summit brought farmers, scientists, extension agents, industry members and key policy influencers together to address the challenges facing organic agriculture and to share knowledge and research findings. Participants, including speakers, totaled more than 180 for the day-and-a-half event organized under the theme "Evaluating and Advancing Knowledge Transfer in Organic."
"The last decade saw very little evaluation of the effectiveness of extension and education for organic farmers, which has created a significant knowledge gap of the educational challenges confronting these farmers," said Dr. Jessica Share, Director of Science Programs for The Organic Center. "This conference was critical for identifying effective programs and assessing barriers to knowledge transfer in the organic community."
Identifying the barriers, and breaking them down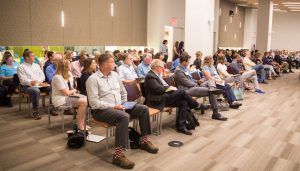 The conference included discussions on the value and need for increased access to knowledge about organic through USDA's Extension Service, an examination of public-private partnerships and the critical role that the organic industry can have in ensuring organic farmers have the knowledge and technology they need to succeed.  It featured a session on the importance of communication among diverse stakeholders, noting that because the organic sector includes farmers from a wide variety of backgrounds, it is important that knowledge transfer techniques not exclude underrepresented groups in the organic farming community.
Another panel addressed the effectiveness of extension requirements in organic agriculture research funding, with researchers giving examples of the detailed education and extension requirements in large-scale grants and sharing their experiences implementing those requirements. Also featured was a panel focusing on farmers interested in transitioning to organic or farming both organic and conventionally in a split operation, and the necessity for organic to be able to recruit farmers new to organic techniques, and be amenable to farmers interested in producing both organic and conventional products.
On the final day of the conference, a panel of diversified organic stakeholders that included organic farmers and researchers from around the country, along with certifiers and USDA staff, gave examples of innovative ways to get information out to organic farmers that are currently underway or being developed. These included farmer-led coalitions that provide farmer-to-farmer education and mentoring, free online training classes for farmers, the development of partnerships with traditional agriculture service providers such as the USDA Natural Resources Conservation Service to link organic farmers to cutting-edge research and conservation practices, collaborative field trials, and open-access databases and on-farm monitoring toolkits to provide sustainable solutions to farmers.
"Conference participants came from a broad array of sectors, and provided invaluable insight into how a framework could be designed to enable information important for the success of their operations to be effectively transferred to organic farmers on multiple levels," said Dr. Tracy Misiewicz, Associate Director of Science Programs for The Organic Center. "By looking at the challenges to getting practical on-farm solutions to producers, we can help new farmers interested in organic make the transition and we can help current organic farmers to succeed."
Helping make the Summit possible was support from the U.S. Department of Agriculture's National Institute of Food and Agriculture, as well as Organic Valley's Farmers Advocating Organic grant program, Organic India, Driscoll's, Stonyfield Organic, Annie's and True Organic Products.
The Organic Center's mission is to convene credible, evidence-based science on the health and environmental benefits of organic food and farming and to communicate the findings to the public. The Center is an independent non-profit 501(c)(3) research and education organization operating under the administrative auspices of the Organic Trade Association.