2021: Make it safe, healthy and organic!
New Year's Resolutions from The Organic Center to help meet any challenge
Organic agriculture and organic food are good for you and good for our world. Real facts backed up by real science. As we close this challenging year and plan for the next one, the choices in what we eat and how we live our everyday lives are critical. To enable the most informed decisions, The Organic Center has put together its list of top ten (In)credible science-based New Year's resolutions to help you create a safe, healthy and organic world for you and your family, no matter what the challenges.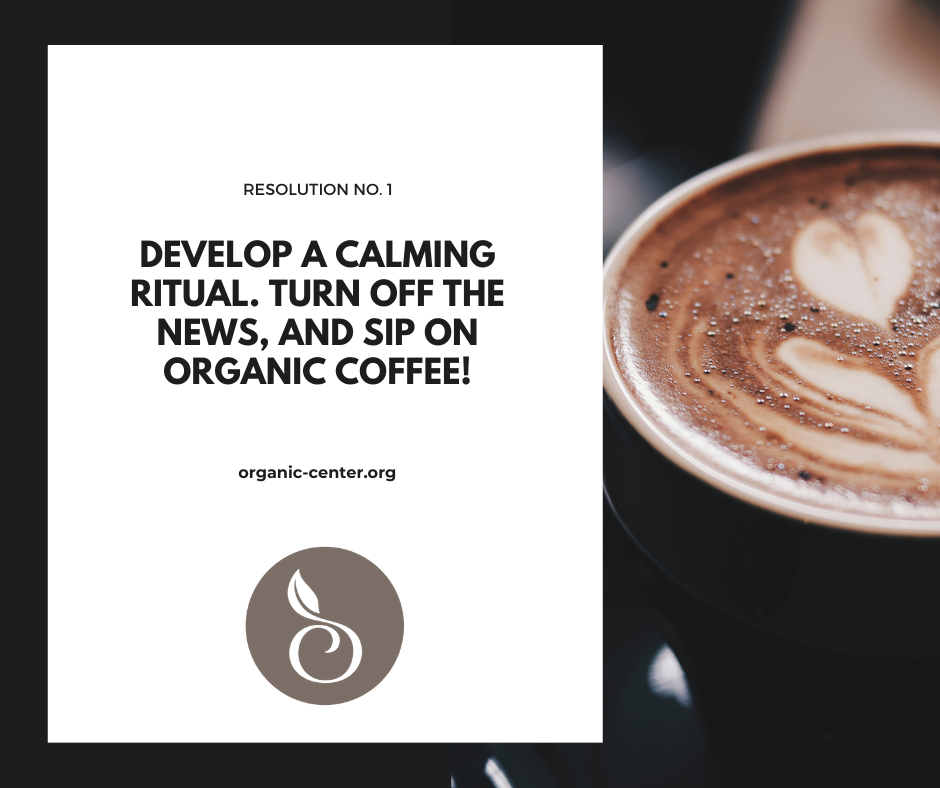 One: Develop a calming ritual. Turn off the news, and sip on organic coffee!
Sitting quietly with a cup of coffee or tea can help reduce stress. Focus on the calming ritual of a warm beverage. Don't read the news. Instead, think about what you are thankful for or read a fun book. By choosing organic, your ritual can also be good for the environment: a study in 2020 showed that organic coffee is better at supporting bird communities. And if you use honey in your tea, your choice of organic is also boosting bee health!
Two: De-stress with chocolate, and make it organic.
Multiple studies have shown that chocolate reduces stress, so incorporating a small amount of dark or milk chocolate into your day is a yummy way to make sure you're taking care of your mind. Organic chocolate doesn't just help with stress-relief: new research shows that it improves soil health as well!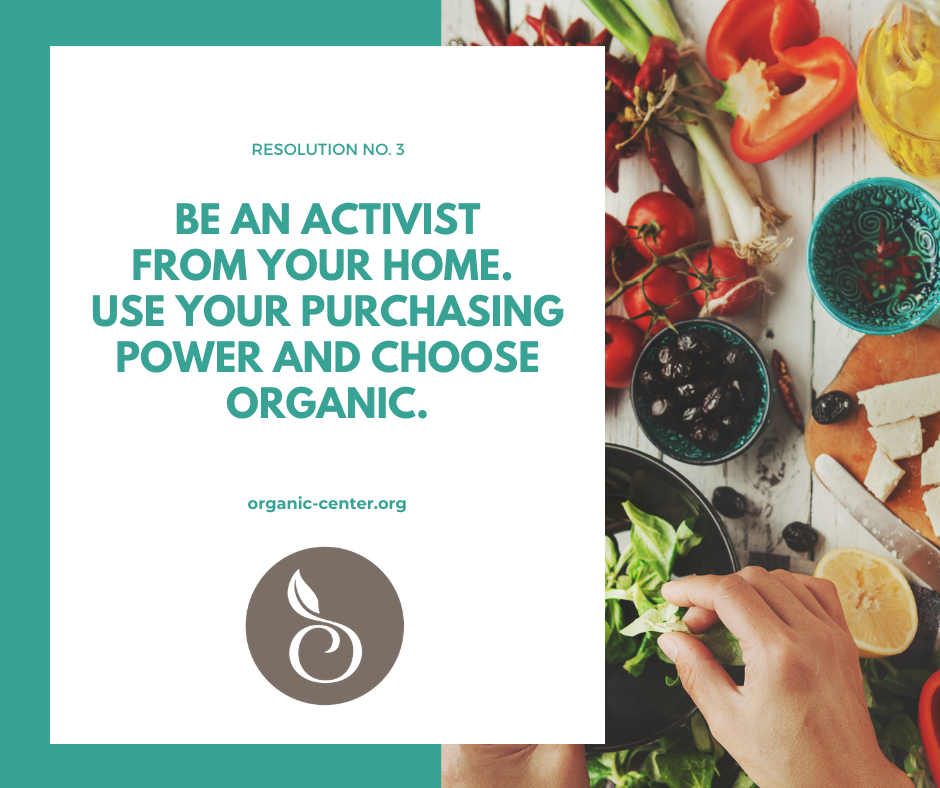 Three: Be an activist…from your home. Use your purchasing power and choose organic.
Being an activist and taking it to the streets can be daunting even when there isn't a pandemic in place, but just because you may be spending your time at home doesn't mean you can't still be involved and make a difference. Use your purchasing power to make a statement and support causes you believe in. Incorporating organic into your family meals supports the environment and farmers' livelihoods. This year alone, research found that organic farming helps boost biodiversity and increases profitability for farmers.
Four: Take care of the air and fight climate change. Support organic farming.
This year has been a catastrophe of pandemic mixed with extreme weather events. With more named storms making landfall than ever before, including six hurricanes, plus derechos, wildfires and more, 2020 has broken records across the board for weather disasters. The good news is that you can help support our climate stability by choosing organic. Research consistently finds organic farming reduces greenhouse gas release and sequesters carbon into the soil. Several new studies this year support the climate mitigation benefits of organic, including a study finding that even when organic yields are lower, organic production still outperforms conventional in climate change mitigation. Also, a publication shows that the ban on synthetic nitrogen fertilizer in organic fields can have a big impact on reducing nitrous oxide, a powerful greenhouse gas. A study co-authored by The Organic Center shows that organic farming practices can help prevent the global accumulation of reactive nitrogen, and scale back the presence of one of the major contributors to climate change.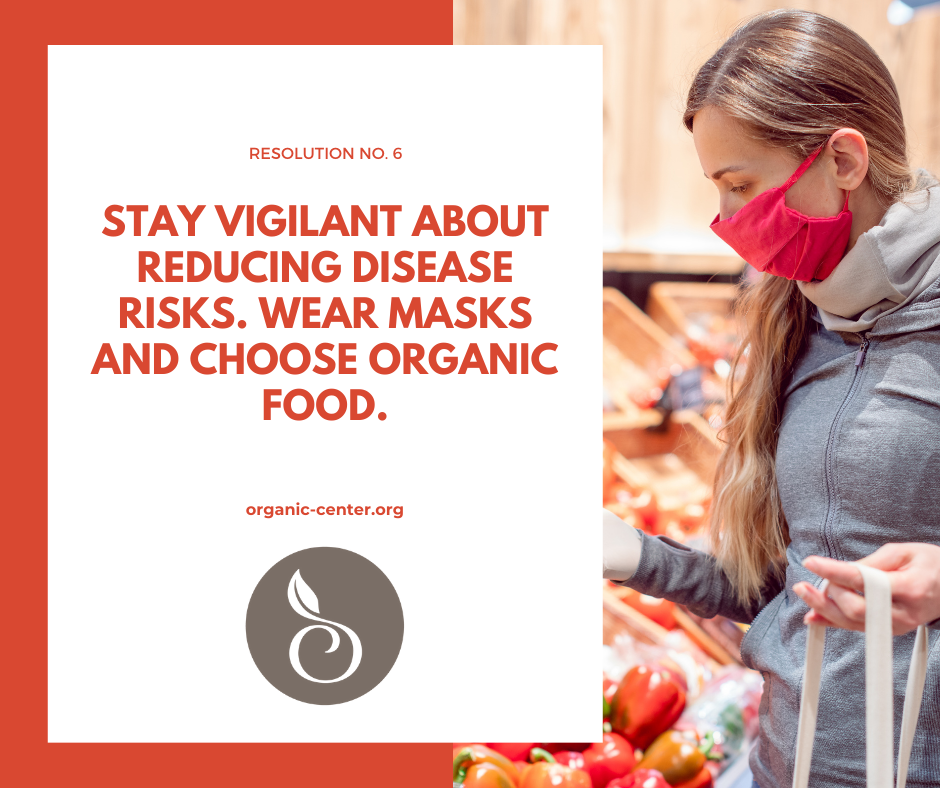 Five: Start planning your organic garden.
While winter keeps most people inside, it's never too early to start planning for your own organic garden…especially because research shows that gardening reduces stress levels and helps people recover from traumatic times. The Organic Center put together a list of resources for starting an organic garden, along with other stay-at-home activities for the whole family. Read our list of resources here!
Six: Stay vigilant about reducing disease risks. Wear masks AND choose organic food.
Wearing masks is critical for reducing the spread of COVID-19, but we also need to remain vigilant in the face of another looming potential pandemic: the rise of multidrug-resistant bacterial infections. In the U.S., antibiotic-resistant infections affect more than 2.8 million people each year, causing at least 35,000 deaths. The widespread use of antibiotics in conventional animal agriculture has contributed to the spread of antibiotic resistance, but methods used in organic production, which ban the use of antibiotics, can combat the rise of antibiotic-resistant bacteria and protect the health of consumers. Organic meat also has other health and environmental benefits. Learn more about them by reading the report by The Organic Center.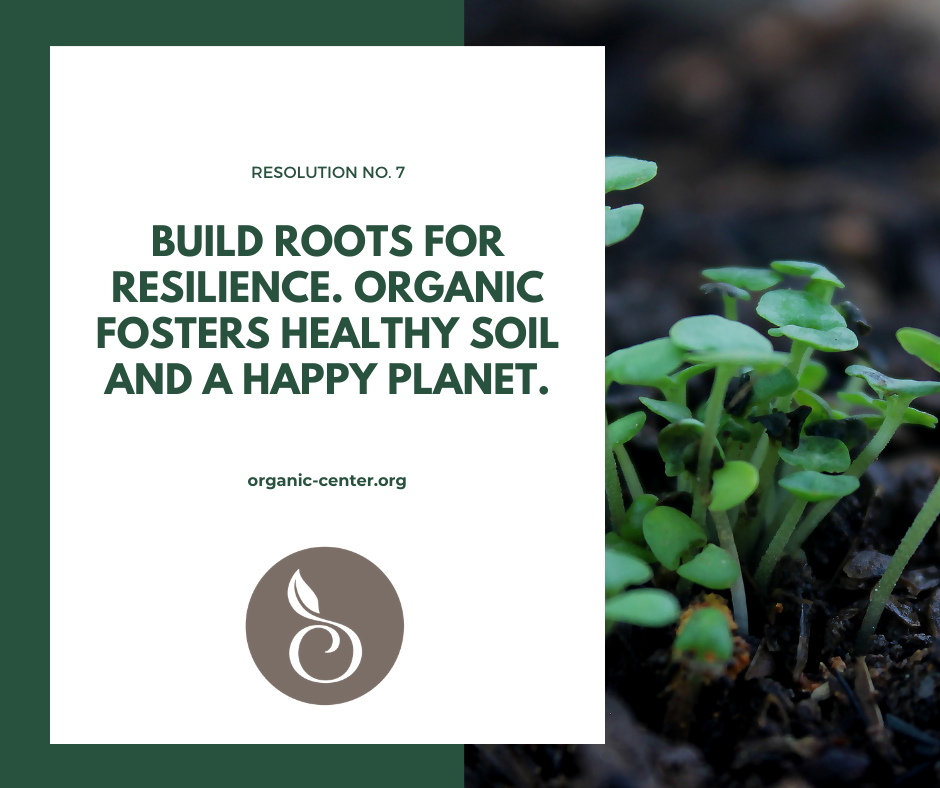 Seven: Build roots for resilience. Organic farming fosters healthy soil and a healthy planet.
We can learn a lot about resilience from our soil. The more we take care of it and foster the communities within it, the better it can handle disturbances and stresses. Healthy soil can simultaneously mitigate climate change by storing more carbon, and protect farmers against climate change because healthy soil is comprised of chemical and biological elements that increase nutrient cycling and withstand drought and flood. Organic management is one of the best ways to build soil health. In 2020, research showed that not only do organic farming practices build soil, they also reduce heavy metal accumulation, sequester more carbon, increase fertility, and boost biological activity. Read about a study The Organic Center collaborated in that provides an overview of the organic techniques with the most impact on soil health.
Eight: Reduce your exposure to chemicals and focus on health. Eat organic.
One of the most groundbreaking studies in 2020 showed measureable benefits of eating organic food on human health. Specifically, researchers out of Southern Cross University found that increased organic food consumption is associated with fewer incidences of infertility, birth defects, pre-eclampsia, allergies, middle ear infections in children, non-Hodgkin lymphoma, and metabolic syndrome, which increases a person's risk for heart disease and stroke. One of the critical reasons experts hypothesize that organic shows beneficial health impacts is that it allows people to reduce their exposure to chemicals.  For example, a study in 2020 found that eating an organic diet can dramatically reduce levels of glyphosate in consumers by an average of 70%!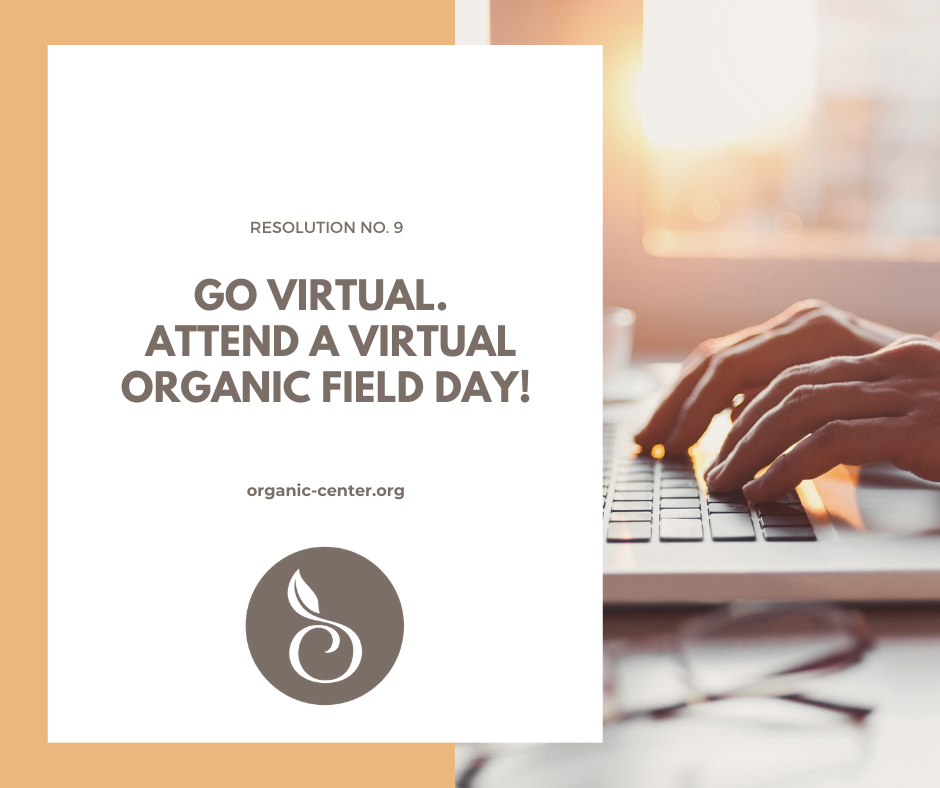 Nine: Go virtual. Register for organic webinars, attend a virtual organic field day!
While in-person events are on hold because of the pandemic, electronic resources have blossomed. The Organic Center has multiple webinars and other virtual events that you can access here, not to mention resources like organic videos, infographics, critical-issue reports, and more. Our research and extension partners also have been taking their courses and trainings online, such as this virtual organic field day from our Science Advisory Committee Member Professor Kathleen Delate.
Ten: Get cozy for quarantine. Snuggle up with organic cotton.
People don't always think about organic when it comes to the clothes we wear, the sheets and mattresses we sleep on, the personal care items we use, or the face masks we wear. But organic cotton is one of the most important choices you can make for the environment, because it supports a healthy ecosystem and prevents the use of toxic synthetic chemicals. Cotton is grown throughout the world, and conventional cotton is a chemically intensive crop with serious consequences for the Earth's air, water, soil, and climate – not to mention the health of farm workers and cotton processors. Organic cotton is grown, processed, dyed, and finished with methods that focus on building ecosystem health and reducing the use of toxic pesticides, synthetic fertilizers and hazardous processing chemicals. The Organic Center is working on cutting edge research to document the environmental benefits of organic cotton. Read about it!