GMO Article in May 2012 Vogue Magazine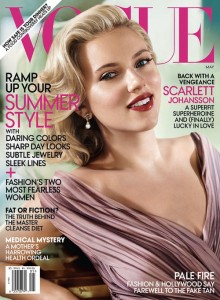 The May Issue of  Vogue magazine (U.S.) features an honest and well written piece, titled "Lab to Table," about  the rise of Genetically Modified foods  (GMOs). Author, Eve Conant, reports on the latest research, the surprising GM foods in her fridge (and maybe in yours),  and the strong movement to get GMOs labeled.
The Organic Center's chief scientist, Dr. Chuck Benbrook, was quoted in the article; Benbrook spoke about how GMO's have created weed resistance and substantially increased herbicide/pesticide use. He said "When it comes to the potential for health and environmental damage in farming communities, this is a train wreck unfolding."
We're hoping exposure in a mainstream mag like this will educate even more Americans about the problems with our food system. To read the full article pick up a copy of the May issue and turn to page 286.