Organic Research Forum Poster Session Call for Poster Proposal Submissions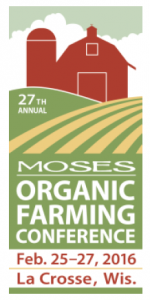 The Midwest Organic and Sustainable Education Service (MOSES) is proud to announce the 7th Annual Organic Research Poster Display to be held in conjunction with the 2016 MOSES Organic Farm
ing Conference to be held February, 26 and 27 at the La Crosse Center in La Crosse, WI!
The Organic Research Forum is made possible by a generous grant from the Ceres Trust. Researchers, academic faculty and staff, graduate/undergraduate students and farmer researchers may submit poster proposals related to the following topics:
 Organic fruit, vegetable and row crop production (including bio-fuels & fibers)
 Organic dairy production  Economic and marketing research of organic products
 Organic livestock production (other than dairy) and crop-livestock integration
 Organic insect and disease management
 Nutritional quality of organic foods
 Consumer and market trends for organic products
Space is limited to 25 posters. All accepted poster presenters receive full conference admission. Limited scholarships are available to offset the cost of lodging and travel. To be considered for a scholarship, submit a request with the poster abstract/summary.
What to submit:  Research abstract/summary (under 300 words) covering:  Study's purpose  Experimental treatments used  Results obtained  Significance of findings  Conclusions and implications Focus on the implications of the research and less on methodology.
How to submit: Send summary in the body of an email or as a Microsoft Word-compatible attachment with your full contact information to: jennifer@mosesorganic.org
Submission Deadline: Friday, December 18, 2015 This is a juried poster session with awards for 1st through 3rd place. All posters must be on display before the opening of the conference at 8:00 a.m. February, 26. Poster presenters must be present from 12:00 to 1:30 PM on Friday and Saturday at the conference to answer questions and discuss their work. Posters must remain on display until 3:00 p.m. on Saturday, February 27.
Full details about the 2015 MOSES Organic Farming Conference can be found at: http://mosesorganic.org/conference/