Benefit for The Organic Center inspires, entertains and raises record funds
More than $450,000 raised in annual celebration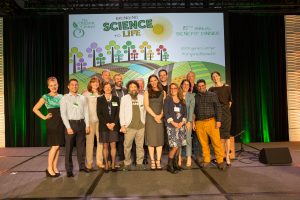 Organic science, organic inspiration, organic food, organic fun. These all came together for more than 500 organic visionaries, activists and businesses on March 8 at The Organic Center's 15th Annual Benefit Dinner in Anaheim, resulting in just over $450,000 raised – a new record -- to further the good work of the non-profit research and education organization.
The celebration, whose theme this year was "Bringing Science to Life," featured award-winning actress, organic entrepreneur and philanthropist Jennifer Garner as the keynote speaker. The highly anticipated event -- the single biggest fundraising event for The Organic Center and the largest business networking dinner at Natural Products Expo West -- also highlighted new organic research, featured a scrumptious all-organic feast created by Chef Matthew Raiford, live entertainment (and dancing!) and a benefit raffle with the grand prize an organic mattress.
"We're thrilled with the enthusiasm and support of all the stakeholders who were here, and the inspiration we experience every year at this premier networking event at West," said Todd Linsky, President of The Organic Center's Board of Trustees. "This is a celebration of the great work of The Organic Center, which advances and communicates organic's benefits to the health of people and our planet."
Garner gave all the credit to her mother for her appreciation of healthy food. Her mother grew up on small farm in Oklahoma, and she made sure that Garner and her sisters always got home-cooked, healthy meals. Garner is now passing that tradition on to her own children, and is also teaching her kids the importance of that healthy home-cooked food being organic, which Garner said she's appreciated more since becoming a mom.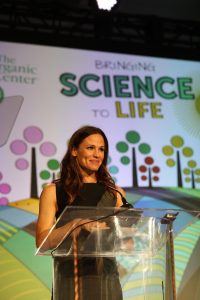 "As I began learning more about organic, one of the most compelling findings to me personally is that most consumers make the switch from conventional food to organic when they become a parent," said Garner. "This makes complete sense. As a parent, you make a promise to your child that no matter what your life circumstance, you will try to give them the best you can."
As artist ambassador for Save the Children's U.S. program and now as co-founder of Once Upon a Farm organic baby food, Garner is making accessibility to organic and healthy foods her personal mission. "Giving underserved communities access to real foods is something I am personally passionate about, and I know that many of you share my passion," she said.
Her company, Garner added, is converting the little farm where her mother grew up in Locust Grove, Oklahoma, into a working organic farm from which it will source some of its products.
"To be able to see this farm come full circle—from feeding my mom and her family decades ago, to becoming a working organic farm that will contribute to feeding thousands of children across the U.S.—there is nothing more gratifying and exciting for this daughter of a farm girl," said Garner.
An incredible year for organic research and The Organic Center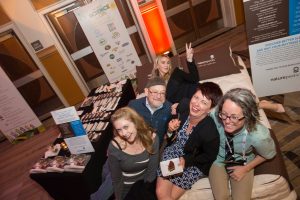 Dr. Jessica Shade, Director of Science Programs for The Center, said it had been an "incredible" year since the 2017 gala: "We set out to bring you major scientific advances around the big topics you care about – things like soil health, climate change, our health and the health of the planet, and this year's research has been absolutely explosive."
Shade highlighted the findings just released from a collaboration between the University of Virginia and The Organic Center showing that organic farming can help reduce nitrogen pollution on a global scale. This study, she explained, shows that organic farming – through its recycling of nitrogen – contributes far less to the pool of new reactive nitrogen in the environment and can help to alleviate the critical problem of nitrogen pollution.
Shade said that The Center now has ten active projects with universities and government institutions, with two on track to publish in the next year.
Attendees were treated to an all-organic feast created by Chef Matthew Raiford, who currently is a James Beard semi-finalist for best chef in the Southeast. The sixth generation to farm his family's land organically, he is an executive chef and owner of The Farmer and The Larder, and associate professor of culinary arts at the College of Coastal Georgia.
The organic menu was created from the many ingredients and products donated by sponsors, and included such treats as open-face tofu sliders, a cheese and summer sausage nosh plate, garbanzo and mango salad, grassfed beef short ribs and Maple & double cream yogurt parfaits.
A benefit raffle was held for those who contributed to The Organic Center, with the grand prize a queen-size Naturepedic organic mattress.
"This year's benefit was the biggest and the most successful since The Organic Center came under the administrative auspices of the Organic Trade Association five years ago," said Laura Batcha, CEO and Executive Director of the Organic Trade Association. "It's been a true honor to be able to help The Center thrive, and we look forward to the exciting projects ahead."
Sponsors for the event were New Hope Network, Once Upon a Farm, National Co+op Grocers, UNFI, Nature's Path Foods, Organic Valley, DanoneWave, Annie's, Inc., Stonyfield Organic, Frontier Co-op, Whole Foods Market, Foster Farms, Braga Fresh Family Farms| Josie's Organics, Driscoll's Inc., KeHE, Naturepedic, Clover Sonoma, Aurora Organic Dairy, Garden of Life, Nancy's Probiotic Foods and Gallant International Inc.